by Kristine Schmucker, HCHM Curator
This post was originally posted on our old blog site on December 13, 2012.
The next Harvey County community that will be featured at HCHM is the oldest city in the county – Sedgwick. The exhibit featuring Sedgwick will open January 11, 2013. The next series of blog posts will feature people and events from Sedgwick's history.
Some people are able to extend their influence across city boundaries—Miss Olive May Challender may have been one such woman. Her fourteen year teaching career included two Harvey County towns, Burrton and Sedgwick.  Her involvement in her church extended her influence beyond the county to include the state.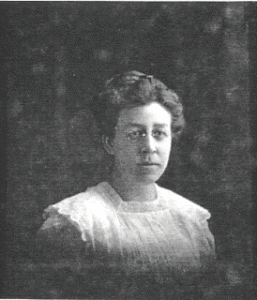 Miss Olive May Challender
Photo courtesy Chris Child
Find A Grave
"A useful, busy life. . ."
Olive May Challender was born in Neponset, Illinois, October 25, 1877 to Josiah S. and Alice Challender.  Two years later a brother, Alton, was born.  The family came to Kansas in 1892 and settled in rural Harvey County near Burrton.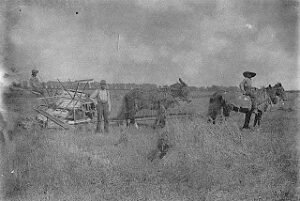 Wheat Harvest, Challeder Farm near Burrton, 1899
A.R. Challender, R.T. Challender and Mr. Billings
HCHM Photo Archives
Olive graduated from Burrton High School and taught for three years before attending the State Normal School in Emporia, Ks. After her graduation in 1900, she returned to Burrton to teach in the Primary School.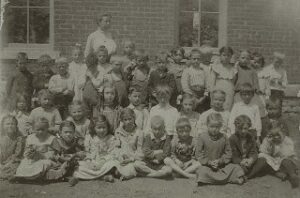 Burrton's First Primary Teacher, Olive May Challender
HCHM Photo Archives
The Burrton Graphic  noted that Miss Challender "endeared herself to the children whom she taught by her kinds and loving actions toward them." (Burrton Graphic, February 10, 1911)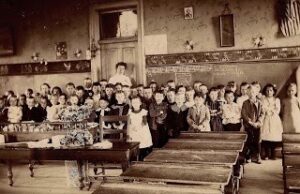 Burrton Primary School, April 23, 1903
Olive May Challender & pupils
HCHM Photo Archives
In 1907, she and her mother moved to Sedgwick and Miss Challender began teaching the children of Sedgwick.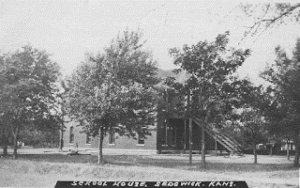 Sedgwick School
HCHM Photo Archives
"A noble, Christian life"
Miss Challender was described as a "talented and loveable" person. While living in Burrton, she joined the  Methodist Episcopal Church. When she moved to Sedgwick, she transferred her membership the M.E. Church there.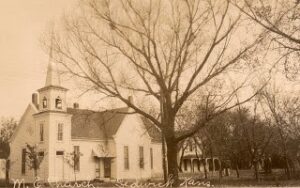 Methodist Episcopal Church, 1903
Sedgwick, Ks
HCHM Photo Archives
During this time, she served at the state level as County Sunday School Association Superintendent of Primary Work.  Through this work she became known county wide and her "influence extended beyond the circles of her immediate community."
"The unexpected death . . . caused universal sorrow"
At the age of 33, Miss Challender suddenly died.  The Newton Weekly Kansan Republican reported that she had left school on Thursday complaining of a sore throat, but no other "alarming symptoms."  On Sunday morning, her family was felt some concern "because her lower extremities were cold."  At noon, she tried to get out of bed, but she could not walk.  Her family helped her back to bed, "and death came quickly."  The paper goes on to report that the physicians were puzzled because there were no indications of acute disease.  They finally concluded that her heart was weakened for some reason and simply gave out without warning.

"The unexpected death of Miss Ollie Challender at Sedgwick last Sunday caused universal sorrow . . . She was greatly loved . . . A useful, busy life." (Sedgwick Pantagraph, undated clipping, HCHM Archives)
Sources: 
Burrton Graphic Feb. 10, 1911; Newton Weekly Kansan Republican 9 February 1911; Sedgwick Pantagraph,February 9, 1911; HCHM Archives – Olive Challender's Memorial Service; Combined Kansas Reports (Google Books) p. 127; The Development of the Sunday School, 1780-1905, (Google Books) p. 518-519; Report by Kansas Department of Public Instructions, 1910 17th Biennial Report, (Google Books) p. 293;Yearbook by Kansas State Teachers College of Emporia, 1904 (Google Books) p. 120 Elementary Courses

Visit our web page for more information  http://hchm.org/
Posted by hvcurator at 12:07 PM
Email ThisBlogThis!Share to TwitterShare to FacebookShare to Pinterest
Labels: Burrton, M.E. Church, Olive May Challender, Sedgwick, State Normal School, Sunday School Association, teacher