The Research Library & Archives is open for researchers!
Due to COVID social distancing throughout the museum & archives is suggested.
HCHM Staff is available to assist during regular museum hours. If you have more in-depth research needs, you may be asked to contact one of our volunteer Archivists and make an appointment with them. Instructions are as follows.
Research questions are welcome. They can be submitted via e-mail (archivist@hchm.org), phone calls (316-283-2221) or Facebook. Please allow extra time for a response.
Should an Archival volunteer be needed, an appointment can be made for the volunteer to meet with a researcher. During the appointment, both the researcher and the volunteer must wear a mask and practice social distancing.
HCHM can provide masks if you forgot yours at home!
Thank you for helping to keep our volunteers healthy!
Archival Research Fees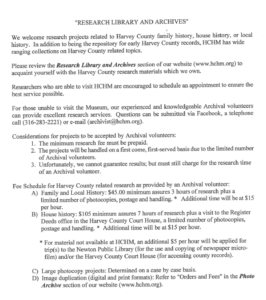 ---
HCHM's Archives and Research Library is a repository for early Harvey County records.
Those researching family history, house history or local history may find our records very helpful. Researchers are encouraged to schedule an appointment to ensure the best service possible.
For those who are unable to visit the museum, our Archive staff and volunteers will provide research services for a fee of $15.00 per hour. The fee for research, photos and copy charges are subject to change without notice.
Our Collections for Harvey County
---
Manuscript Collections
Archival boxes for Harvey County are indexed under the following subjects:
Local Government
Harvey County Residents
Clubs and Associations
Military Records
Schools
ATSF Railway
Churches and Businesses.
Other collections include Sheet and Band Music and Publications.
The Native American & Pioneer Trails in Harvey County collection is contained in the Harvey County Residents section.
---
Native American & Pioneer Trails in Harvey County
A feature of the Harvey County Residents section in the Manuscript Collections is the material on trails in Harvey County. The majority was collected by A.J. Frey and Menno E. Schmidt of Newton, Kansas. It contains Chisholm Trail and early Harvey County history. The collection was the result of research by the two men for the Centennial of the Chisholm Trail in 1967.
Documents include articles from various newspapers and publications, maps, and correspondence (including some from John C. Nicholson and George Ross, Jr); plus notes made by Frey and Schmidt about trails in Harvey County.
Topics covered: Chisholm Trail, Cherokee Trail, Cottonwood Trail, Santa Fe Trail, Joseph McCoy, Jesse Chisholm, Cottonwood Valley to Pikes Peak Road, Black Beaver Trail, the AA Moore Ranch in Marion County, and historical notes on Harvey County.
View Collection Index of Native American & Pioneer Trails in Harvey Co
---
Map Collection
The map collection includes Harvey County plat maps (1882, 1902, 1918 and 1931), Sanborn Fire Insurance maps for Newton, county oil maps, Kansas and United States highway maps, plat maps of Newton, and railway maps. Kansas Trail Maps: Early Pioneer Trails and Routes is featured in the Map Collection.
---
Kansas Trail Maps: Early Pioneer Trails and Routes
Most of the Kansas trail maps were collected by A.J. Frey and Menno E. Schmidt of Newton, Kansas. The collection was the result of research by the two men for the Centennial of the Chisholm Trail in 1967.
The collection contains maps for the Chisholm Trail, Santa Fe Trail, Western Pony Express Trail, Butterfield's Overland Mail Route, and scenic byways and memorial routes in Kansas. A recent addition is a 2014 drawing by Brian Stucky showing pioneer trails in Harvey County.
Within the documents, additional topics include "Coronado country"; pioneer routes and major trails within Kansas; Harvey County road maps; trails from 1800s in Butler County; military forts and routes of United States troops in Kansas-Texas-Colorado-New Mexico and Indian Territory; and, railroads in Indian Territory.
View Index of Kansas Trail Maps Collection
---
Lists of Residents 1911-1979
A yearly listing of county residents by townships and cities. Residents are listed in alphabetical order: male and female. The address is given, number of people in the family, and the school district in which they resided.
---
Civil War Pensions
The John C. Johnston Collection of Civil War Pensions consists of 287 names of men from Harvey County who applied for pensions through claim attorney John C. Johnston. Each man has a folder telling which unit he served in, his activity during the war, and any health issues he might have sustained. After checking the list, please contact our Archives staff if you'd like copies of papers included in a particular folder (archivist@hchm.org or 316.283.2221).
---
Marriage Licenses 1872-1913
Check the Marriage Index – either for the bride or groom – and let us know if you'd like a copy of the original license. Send a check or money order in the amount of $3.00 to Harvey County Historical Society, PO Box 4, Newton, KS 67114. Upon receipt, we'll send to you a copy of the original marriage license.
---
Cemetery Records
Cemetery records for Harvey County were compiled by Micki Crozier in the late 1980s. Our Greenwood Cemetery index (Newton) includes burials from 1872-1998. We also have an index of obituaries appearing in the Newton Kansan (1872-1921) courtesy of the Newton Public Library. Additions to the index (1922 – June 1964) are available only at the Newton Public Library. You may also want to visit the Harvey County Genealogical Society's website for additional information regarding gravesites and cemeteries in Harvey County.
Harvey County Genealogical Website
---
Census on Microfilm
The following census records are available for viewing.
Federal Censuses: Marion Co. 1860, 1870
Sedgwick Co. 1870
Harvey Co. 1880, 1900, 1910 ,1920, 1930
Kansas State Censuses: Harvey Co. 1875-1925
Also, an indexed 1940 census for Harvey County is available online at www.familysearch.org.
---
Newspapers of Harvey County on Microfilm
The Society owns the following city newspapers on microfilm:
Burrton 1878-1930
Halstead 1887-1930
Hesston 1917-2002; also a Hesston Record database of births, deaths and marriages 1917-1989
Newton 1872-January 1959
---
Newton City Directories
City directories for Newton from 1885 to 1998 are available on microfilm and, for some years, in book form. The 1885 city directory includes Halstead and Sedgwick.
---
Harvey County Histories
History of Harvey County 1871-1881 by R.W.P. Muse
Brick and Mortar: A History of Newton, Kansas by Rachel Waltner Goossen
Harvey County, Kansas, History compiled by Linda Smurr
Fiftieth Anniversary Edition of the Newton Kansan, 1922
Newton Medical Center: Merging the Past with the Future by Lana Wirt Myers
Newton Remembering Yesterday Today by Dudley Dodgion Toevs
---
School Annuals of Harvey County
Yearbooks for Newton High School, Hesston High School, Bethel College and Hesston College. Not all years are available.
---
Harvey County Tax Rolls 1872-1915
County tax rolls for years 1872-1915 are on microfilm. People doing house histories can use the tax rolls to determine the age of an old house.
---
County School Records
The Society has records from some of the county schools. There is a list of school district numbers and locations.
---
Voter Registration Records for Newton, KS
Beginning in 1881, the records are currently indexed to 1908. The records show names, addresses and, in some cases, occupations.
---
Divorce Record Index
First filings only. 1872 to 1939. The index provides case numbers to find the actual records at the Harvey County Courthouse.
---
Santa Fe Railway Collection
Papers, records, files and books of former railroad employees or railroad enthusiasts. These files are available for researching specific areas of the railroad, particularly its operations in Newton and Harvey County. The collections are indexed and consist of the HCHM Archives Collection, HCHM Archives Track Maps Collection, Hurley Main Collection, Hurley Manuscript Collection, Hurley Maps Collection, Park Collection, Shaw Collection, Smiley Collection, Stagner Collection, Thudin Collection, and Dale R. Stewart Collection.
The Harvey County Historical Museum continues to receive railroad documents which are then added to the collection.
A special "Thank you" to all who have contributed and donated to the Santa Fe Railway collection.
Index for Dale R. Stewart Collection
Railroad memorabilia was collected by Dale R. Stewart, a newsman and railroad enthusiast. Beginning as a carrier in his youth, Dale spent 55 years in the newspaper profession. Born on March 20, 1933 in Newton, Kansas, Dale was the son of George C. and Martha A. Stewart. Reared in Newton, Dale graduated from Newton High in 1950; and then from the University of Wichita in 1956. A lifelong interest in railroads was reflected in model railroading, photography and pen and ink art works. Dale's interest focused on the Santa Fe Railway and other lines in Kansas, Oklahoma and Idaho. Within the Stewart Collection, a substantial amount resides in the curatorial area of HCHM. These items include equipment and materials for a model train layout (locomotives, rolling stock, rail track, scenery, etc.) and framed/matted art work. HCHM's Research Library is home to the books and videos from the Stewart Collection.
Index for HCHM Archives Railroad Collection
The Harvey County Historical Museum (HCHM) Archives Railroad Collection is comprised of materials collected by museum staff; and by individuals such as Ericka Stucky, Mike Hurley and Lloyd Stagner who donated documents to HCHM.
The HCHM Archives Collection contains documents of: employee and passenger timetables; Santa Fe Magazines; Pace Magazines; The Official Guide of Airline Schedules; Brotherhood of Locomotive Firemen & Enginemen; Ladies' Society of BLF&E, and UTU; Agreements; Benefits; Time Service Dept.; History; Santa Fe Forms; Equipment Register; Teletype; Personnel of Track Dept.; Maintenance of Way Dept.; Hanlin Supply Co Forms; Harvey House Correspondence; Fred Harvey Farm; Santa Fe and Newton Waterworks; Proposed Plan of 1880 Depot & Hotel in Newton; Apprentice School Drawings; Santa Fe Rail Mill Drawings; Back Shop Drawings; Steam Engine Schematics; Amtrak; Engine 1880 in Newton; SFRR System Map in 1888; Map showing 1883 location of Santa Fe Facilities in Newton; manuals for air brakes, steam locomotives, and diesel locomotives; seniority rosters; operating rule books; examination manuals for enginemen; Passenger Car Heating Manuals; Santa Fe Fire Rules; protest against discontinuation of passenger service through Newton; Fred Harvey file; Drawings from Car Barn; 1874 Zulu Cars; Harvey County RR Co. of 1881; Fred Harvey files and menus; Master Mechanic's Instruction Books and Correspondence; 1868 Rules for Running Trains; 1897 Freight Traffic Rules; Brotherhood of Railway Clerks Minutes; Santa Fe Accident Record Books.
Also included are the files of George Stults, Kenneth Giggy, H. G. Guy, Alfred McKanna, Frank McReynolds, G.H. Weis, John H. Keller, Willard L. Ashcraft, Ira W. Rees, Robert W. Schmidt, K.H. Cherryholmes, Harry Briscoe, Peter Tellin, T.J. Peters, and A.J. Smith.
View Index for HCHM Archives Railroad Collection
Index for HCHM Archives Track Maps Collection
The HCHM Archives Track Maps Collection contains track maps from the Division Engineering Office and Chief Engineering Office in Topeka, KS. Included are maps and sketches for: industry; Halstead; the 1931 Santa Fe Depot; Santa Fe Depot and McGraw Station; Fred Harvey and Mexican Bunkhouse; Sand Creek Freight Yards; CLIC; Mission and Burrton; rail mill; Newton office building; early Newton railroad facilities; Newton yards; and Newton roundhouse; plus Missouri Pacific and Amtrak calendars.
View Index for HCHM Archives Track Maps
Index for Mike Hurley Main Collection
L. M. "Mike" Hurley had 44 years with the Santa Fe Railroad. After his retirement, he served as the Assistant Director at HCHM and was instrumental in gathering HCHM's Santa Fe Railway Collection. Mike's lasting railway legacy was the book he authored, "Newton Kansas #1 Santa Fe Rail Hub 1871-1971."
The Mike Hurley Main Collection contains Official Guides to Railways; Equipment Register; Railroad Officials; Restoration Feasibility Study for KSHS; Railway Post Office Clerks instructions; Hazardous Materials Regulations; Seniority Rosters; 1893/94 Newton Round House workers; Watch register at Sand Creek; Passenger/Train Crew Assignments; Waybills; Middle Division Advertisements; time books; station number books; agreements between Santa Fe and Brotherhoods and Locomotive Engineer Strike in 1982; train magazine articles; Santa Fe employee timetables; Kansas State Railroad Maps; Hutchinson passenger station; rule books; instruction books; examination booklets; Amtrak information; Retirement; Railroad Retirement Board; Employee Handbooks; Employee brochures; Rules for Guidance of Employees; claims; Hospitalization; health/welfare plans; Santa Fe Magazines (1914-1983); Pace (1984-1987); Santa Fe Railway News (1986-1996); and BNSF magazine (1986); Passenger (Public) Timetables for various rail lines; Car Location and Inventory Control; Officers/station numbers; Registers of Trains; inventories; Railway engineering dept.; Diesel Locomotive Manuals; Operating Dept Bulletins; General Orders of Middle Division; Train Orders; Kansas Division Orders; Middle Division Superintendent's Bulletins; Trainmaster's Bulletins; Labor Union Agreements; United Transportation Union; Brotherhood of Railroad Trainmen; Agreements between ATSF and Brotherhoods; Correspondence of J.G. Bailey; Ladies Auxiliary to Railroad Trainmen; Rock Island RR; Operating Rule Books for other railroads; newspaper articles about merger of Santa Fe and Burlington Northern; posters/prints; and, memoirs of L.M. Hurley.
View Index for Mike Hurley Main Collection
Index for Mike Hurley Manuscript Collection
The Mike Hurley Manuscript Collection, materials collected by Mike Hurley, were categorized as follows: Amtrak and busses; baggage checks; blotters/calendars; books; classification cards; Consists of trains; correspondence of Claude Cravens; Date Nail List; depots; Dispatcher's Sheet; Engines; Engine 1880 (at Military Park in Newton, KS); Foreign Lines; Harvey House and Dining Cars; Cyrus K. Holliday; I.D. Cards; Line Up and Progies; Lt. Wt.; Magazines; Manuscripts (Inventory of Santa Fe Records at KS Historical Society in Topeka, KS); Maps; Mergers; Morse Code; Newton History; Northern Pacific; Oil Lamps; Orders-Train; Passenger Schedules; Passes-Train; Pay Roll; Poems (Railroad); Railroad History; R.P.O.; Research Data; Retirees; Round House; RX Tower Movement; Seniority Roster; Railroad Slang; Street Cars and A.V.I. Ry; Strike; Telegrams and Line Ups; Tickets; Time Service Department; Track Warrants; Trade Marks; Union Pacific #844 and "City of Wichita"; Water Tower; Work Train Reports; and, Wrecks.
View Index for Mike Hurley Manuscript Collection
Index for Mike Hurley Railway Maps Collection
The Mike Hurley Railway Maps Collection contains: 1966 System Map; 1870 and 1873 Plat maps of Newton; Pipelines at Newton in 1920; 1931 Santa Fe Depot at Newton; ATSF Operated Road Miles; ATSF Engineering & Technology Div; Railroad Map of the United States ca. 1950s; Platform Extension Diesel Facility; Train Sheds at Newton; Newton Round House Backshops Lower Garden; Poage Automatic Water Column Chicago; KC Mexico and Orient RR Co of Texas; ATSF Middle Div Dispatchers' Record of Movement of Trains; Employee Information; 1927 Santa Fe Locomotive Poster; 1920 ATSF Station Map Tracks & Structures at Newton; ATSF Regional Connections; Santa Fe Railway Calendars; Symbios Logic advertising posters; BNSF Map Showing Divisions; BNSF Mechanical Maintenance Locations; CLIC Maps at Newton; sketches pertaining to derailments; Stock Pens at Sand Creek; Deck Br 1.0 on Trk 201 McGraw; Diagram and Sketch for Dodge City Yards; and, Sketch of Proposed Track Rearrangement Near Car Repair Shop at Newton.
View Index for Mike Hurley Railway Maps Collection
Index for Thomas H. Park Collection
Thomas H. Park, a long time ATSF employee, was a Freight Conductor between Newton, KS and Dodge City, KS. He retired from the ATSF in the early 1980s.
The Thomas H. Park Collection contains: time slips; train orders; clearance cards; the Directory of the Order of Railway Conductors and Brakemen (ORCB); obituaries of E.G. Pusey and R.M. Brown; retirement documentation; ORCB national meeting documents; writings on the elimination of locomotive firemen; writings on the National Work Rules Dispute; documents about combining the ORCB and the Brotherhood of Railroad Trainmen; various correspondence between ORCB and ATSF; ORCB reports, forms, membership correspondence and reports, and bulletins, ledgers and minutes.
View Index for Thomas H. Park Collection
Index for Robert (Bob) G. Shaw Collection
Robert G. Shaw was a long time ATSF employee who was a Fireman, an Engineer, and a Road Foreman of Engines. Most of Bob's experience was in California, coming to Newton in 1963. He retired in 1973.
The Bob Shaw Collection contains: time tables from various Santa Fe divisions and lines, Southern Pacific's San Joaquin Division, The Wichita Union Terminal Ry, Louisville and Nashville Railroad Co, and International-Great Northern Railroad Co; diagrams and manuals for various diesel and steam locomotives; instructions and manuals for various systems and equipment; tonnage rating sheets; rules and instructions for switching; and, handling cars with explosives. Additional material includes Santa Fe Magazines, seniority rosters, examination study booklets, Mechanical examinations and answers, pay rate documents, duties of Road Foremen and Helpers, renumbering of diesel units, causes of and reports on train break-in-two events, Operating Dept rules and regulations for ATSF and for railroads other than Santa Fe, President Truman's order for strike aversion, Superintendent Bulletin Books, Pocketlist of Railroad Officials, station number listing, track charts, brochures placed on passenger trains, a time recording book, and Brotherhood Agreements with Santa Fe. Also, there is a pamphlet on Engine 1880 in Newton's Military Park; and Bob Shaw's personal papers which are comprised of time books, expense records, personnel files of those supervised by Shaw, and correspondence on the condition of equipment.
View Index for Robert G. Shaw Collection
Index for Harry A. Smiley Collection
Harry A. Smiley was a long time freight and passenger conductor for the ATSF between Newton, KS and Dodge City, KS. Harry was born in 1914 and died in 1994.
The Harry Smiley Collection contains: Order of Railway Conductors and Brakemen (ORCB) circulars; financial records; strike instructions; correspondence on agreements between ORCB and ATSF; 1951 Railroad Retirement Act brochures; ORCB forms; history of ORCB; and ORCB deaths and retirements.
View Index for Harry A. Smiley Collection
Index for Lloyd E. Stagner Collection
Lloyd Stagner was a railroad historian and 34 year employee of Santa Fe. Stagner wrote 31 books on the subject. Born in 1923 in Oklahoma, he died in 2008 in Kansas. Stagner donated items from his vast collection to HCHM.
The Lloyd Stagner Collection includes: Train Accidents; Train Delays; Train Performance; Engine Failures; Newton Master Mechanic's correspondence; Passenger Train Performance; Passenger Train Movement; Locomotive Service Reports; Santa Fe Railway Transportation Advices; Rule books: Locomotive Oil Burning Equipment; Locomotive Engineers on various SF lines; Care of steam boilers, heating and AC in passenger cars; safety practices; Handling cars; Physical exams; Seniority lists; Time Service Time Books; Railroad Publications and Booklets; Time Books other Railroads; Railroad Facts; 1909 Bonus System; Middle Division retirements; SF Free Form Dispatchers; SF Bulletins from Arkansas City; Railway Newsletters; ATSF Publications for employees; Newton Railway Record; Seniority Book Hutchinson; List of Stations; Rates; Rules and Regulations for Engineers and Trainmen; Agreements; SF menus; Locomotive Assignments Newton; Corridor Turnover; Train Line-Up; Locomotive assignments; Train movements; Transfer of Engines; Diesel and Diesel Switch Engines; Correspondence on Diesel Switch Engines and Diesel Yard Engines; Dispatches for Engines; time tables and Official Guides for misc railroads; Trainmaster Instructions; Bulletins Middle Div; Circulars KC Division; Freight Train Schedules & Instructions; Missouri Pacific instruction books; Employee Claims; Interstate Commerce Valuations of Railroad Property; Employee operational books; H.P. Tudor Train Record; Railroad Control and Merger Application Between Santa Fe and Burlington Northern; Accident investigations; Low water investigations; Locomotive Firemen's Strike; Sale of steam locomotives; Santa Fe Division Timetables; Burlington Northern Timetables; Amtrak Regional Timetables and Passenger Brochures; Locomotive requirement for passenger trains; Fuel Conservation Meetings; Loss and Damage Prevention Meeting; Preparation of Shopping Forms and Shopping Scheduling; Engines in shop waiting for repairs; Conversion of Engines; Delays and handling of shipments; Locomotive improvements in the 1940s; Freight train reports; Reports of condition of power; Train and Locomotive Performance Statistics Report.
View Index for Lloyd E. Stagner Collection
Index for Clyde F. Thudin Collection
Clyde F. Thudin worked as an ASDE (Assistant Supervisor Diesel Engines–"Diesel Maintainer") on the ATSF. Thudin was born in 1908 in Kansas. He was a graduate of Newton High School and Kansas State University. Thudin worked for 34 years for the Santa Fe in Chicago, Kansas City, Emporia, and Newton. He retired in 1971 and died in 1979.
The Clyde Thudin Collection contains: Santa Fe Magazines; time tables for Santa Fe; time tables for The Wichita Union Terminal Ry. Co.; seniority rosters; instruction manuals for locomotives and service training on diesel engines; locomotive parts and stores bulletins; instruction and maintenance manuals for various systems and equipment; wiring and connection diagrams; tonnage ratings; bulletins for Trainmasters, Enginemen, Master Mechanics, Engineers, and Hostlers; Bulletins from General Manager; and Superintendent Bulletin for KS City Terminal Railway Co. Additional material includes memos regarding examinations, listings of freight diesels and their engine number changes, memos on changes in the maximum speed of locomotives, info on future passenger train service on the Santa Fe, info on problems of the national transportation policy, and an ATSF System Map. Also in the collection are Thudin's work papers, work and instruction memos, train orders, correspondence, and wallet cards; plus some photographs as well as Thudin's obituary.