by Kristine Schmucker, HCHM Curator
Recently, a number of people joined us for an informal time of sharing about the Ranchito community in Newton, Ks. Some shared their memories on tape and others brought photos.
This project was a joint project of the Harvey County Historical Museum & Archives and the Newton Public Library.
On Tuesday, Nov. 15 and Sunday, Nov 20, Ranchito Roots, a program based on these interviews, photos and documents, will be shared.
Thank you to each person that graciously shared their time, stories and photographs.
Ranchito Roots
Beginning in approximately 1911, the Santa Fe Railroad  provided housing to Mexican laborers and their families on west 1st in Newton.  The area east of Sand Creek and south of 1st Street  was known as the "Mexican Camp" or the Ranchito by those that lived there.
In 1911, L.C. Lawton, Division Engineer for the Santa Fe Railroad noted:
"One of the most serious problems of railway maintenance between the Missouri River and the Rocky Mountains is that of securing and holding a sufficient supply of labor . . . to obtain a better trained and steadier class of laborers, efforts are made to locate men with families. . . The requires housing these laborers in a way not before attempted to any extent by the Santa Fe."
Plans were outlined explaining that "a very cheap, but more substantial house has been planned, as shown in the accompanying drawings."
"A particular advantage is that all material is scrap or second hand, and can be picked up on any division and the houses built by the men themselves." 
While the Santa Fe Railroad saw the "Mexican Camps" as a solution to a problem, those that called the place home built a community.
The earliest homes were  and poorly constructed using "scrap or second hand" materials.
In 1926 new buildings featuring a brick exterior were built by the Santa Fe. Below are descriptions of these buildings by the those that were a part of the community from 1926 through the 1950s.  The buildings were torn down in 1959-60.
"It was Nice to Live There:"1920s & 1930s
Daniel Gonzalez noted that he was born in the earlier buildings made of "railroad ties."
The new brick houses were constructed shortly after his birth and his family was able to move.
"I spent my childhood there.  It was really nice to live there . . cozy nice and warm in the wintertime and in the summer time they were cool." –Daniel Gonzalez
Daniel's brother, Juan, described the room arrangement;
"It was nice living in that little Ranchito, two bedrooms, a dining room and living room in one room.  Mom and Dad slept in there and then we had the kitchen, small. We had another room, the girls slept in that little room  . . . the brothers slept in the other big room." -Juan Ricon Gonzalez
"We had pot belly stoves . . coal to fire them up and railroad ties to saw and use for firewood. Each section had a shower."  –Juan Ricon Gonzalez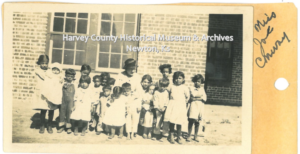 "How we all fit?" 1940s &  1950s.
"In all there were 10 boys and 6 girls in my family, two boys died and two girls, when they were small.  but, we all of us fit in the . . .Mexican Camp.  How we all fit, I don't know.  We had a lot of bunk beds.  My brothers slept on some and my sisters in another room.  My sister Annie and I slept with my mom and dad in their bed." -Genevieve Josie Victorio.
"It was four little rooms. The living room had three big beds, a radio and a chair where Dad would listen to the radio.  In another little room there were bunk beds where the rest of the boys would sleep, the next room was the kitchen.  My mom had the stove there and the boys always made sure she had wood, because Dad would tell them once and they'd have to make sure everything was there for her. The next room had table and chairs and another bed where my dad and mom slept and my sister.  It was tight quarters, but we managed." –Genevieve Josie Victorio.
"It was Family"
"It was easy, it was family.  The Ranchito held 18 different housing areas in that one building.  Some of those rooms had as many as five families in it, per room.  The rooms were only 8 by 8.  They weren't very big, but the Ranchito here in Newton was made with brick walls on the outside . . . a wood burning stove . . . with dirt floors." -Mario Garcia

"It was a small community at the Ranchito, and all the families knew everybody." -Mario Garcia
There are many more stories and photos that will be shared at the programs on Nov. 15 and Nov. 20.  The same program will be given on both days.
Sources
Oral Interviews with Daniel Gonzalez, Juan Rincon Gonzalez, Anita Domme, Elico Flores, Genevieve Josie Victorio, Mario Garcia, Patricia (Campa) Aguiri  and Victoria Jasso, HCHM Archives, Newton, Ks.
Chris Palacioz Document Collection, Newton, Ks, 1994, HCHM Archives, Newton, Ks.
Lawton, L.C. Division Engineer, Newton, Ks, "Erecting Mexican Laborers' Houses," Santa Fe Employees Magazine, September 1911, p. 75-76.