Walk on Main Street in Newton near the corner of 6th Street and if you are lucky you will get a whiff  of baking peppernuts from Prairie Harvest.   For many families in Harvey County, peppernuts are a traditional Christmas treat that has a long history.
A nut-sized spice cookie the earliest recipes call for black pepper  and ginger with several basic ingredients, honey, eggs and flour.  During the Middle Ages, black pepper was one of the most expensive of the spices, adding to the special nature of foods made with it.  Baking peppernuts became a tradition among Mennonites living in Russia and when they immigrated to Kansas in the 1870s, they brought their recipes with them. Since that time, peppernuts have remained popular and as new, different ingredients were available,  the recipes changed. In her book, Mennonite Foods & Folkways from South Russia, Norma Jost Voth concluded:
"The best peppernuts are crisp and very spicy.  Anise is the most popular flavor.  Pepper enhances the other spice flavors.  The plain, traditional peppernut is still very good.  The tradition will continue!"
Today, peppernuts are enjoyed by many families in south central Kansas and several individuals and businesses bake them to sell.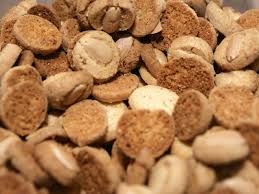 Below are three recipes for peppernuts and one fudge recipe from Arpa Wedel's Recipe Box. Arpa Wedel (1914-2003) grew up in Marion County and lived and worked as a teacher in Marion and Harvey Counties.  Her recipe box features traditional favorites as well as new dishes to try.
Click on images to enlarge recipe cards.
Citron Peppernuts (or Russian Peppernuts)
 Peppernuts 
Esther's Peppernuts
Fudge
Fudge is another Christmas treat.  Below is a recipe that Arpa got from Mrs. D.S. Goertzen.
Mrs. D.S. Goertzen's Fudge
Arpa Wedel's Recipe Box, Private Collection.
Mennonite Weekly Review 8 September 2003, p. 12
U.S. Census, 1940.
Voth, Norma Jost.  Mennonite Foods & Folkways from South Russia: Vol. 1.  Intercourse, PA:  Good Books, 1994.