by Kristine Schmucker, HCHM Curator
We often think that women owning and operating their own business is a relatively recent occurrence. However, a closer look at Harvey County businesses over time reveals  that women have long been successful entrepreneurs.  The "Millinery Parlor" was one business that allowed a woman to work  from her home or at an actual store.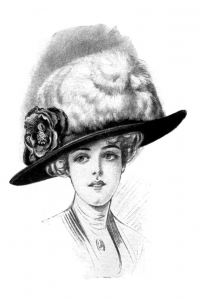 Mrs. T.E. Young Millinery Parlors
Mary M. Young, (Mrs. T.E.) operated a millinery business out of her home on east 8th, Newton, in 1901-02.  A successful business woman in Newton, Mary Morris arrived from Ireland as a single woman. She married Thomas Young, a widower with four children, in 1893.   In addition to the children,  Thomas' mother was also living with them in 1900.  Thomas was a traveling salesman.
Even with the demands at home, Mary was able to keep her millinery business going.  She made hats for many of Newton's prominent citizens and she was noted for her excellent workmanship and hats that were of "the latest and most popular styles." No doubt the extra money from the millinery business was welcome with a large family.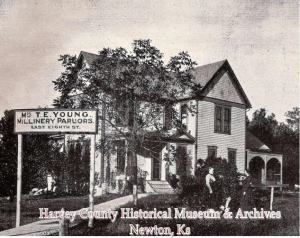 In 1911, Mrs. Young was listed as the head milliner for the Newton department store, Conrad & Dutcher.
After Thomas died in 1914, Mary Young "had her home made into an apartment house and has 'mothered' many a lonely young man or woman, and helped many a bride in her first attempts at homemaking." In addition to being a successful businesswoman, Mary gave back to her adopted community.  She was involved in the organization of the Newton Country Club and was a member of the Eastern Star and the Beauceant.  With her "magnificent contralto voice," she was a member of the Musical Union and St Matthew's Episcopal Church.
Her obituary described this "public spirited" woman in this way:
"Hers was a fine character and typically Irish especially in the quality of her faithful and true friendship."
Mrs. T.E. Young passed away March 15, 1924 at the age of 67.
For Posts on Other Harvey County Businesswomen see:
The Story of Carrie Van Aken: https://hchm.org/carrievanaken/
The Story of Augusta Goerman: http://harveycountyvoices.blogspot.com/2013/03/mustard-plaster-and-warm-iron-goerman.html
The Story of Lizzie Coult: http://harveycountyvoices.blogspot.com/2012/07/she-hath-done-what-she-could.html
Sources:
Western Journal of Commerce, 1901, p. 13
Newton City Directory, 1902, 1911
Newton Kansan 15 March 1924.  Obituary for Mrs. T.E. Young
HCHM Archives Marriage License Index,  https://hchm.org/research-library/
HCHM Photo Archives
United States Census, 1900, 1920
Sharing Stories and Connecting Community