by Kristine Schmucker, HCHM Curator
(Note: This is part two of a three part series on the Opera House Fire on January 1, 1915) Click here for Part 1.
On the evening of Dec 31,1914 around 7:30, W.T. Green, age 70,  walked with a friend, Albert Nichol, from the Arcade Hotel to his room on the third floor of the Knoepker Opera House.  At 2:30 in the morning on January 1, 1915 fire was reported at the Opera House.  Within an hour the entire structure was involved.  The next morning, people began to realize that no one had seen Mr. Green since 7:30 the night before, and the worst was feared.
"Several witnesses of the fire have stated that they saw a man at the window in the room which was occupied by Mr. Green."  The man stood "at the window for a brief while.  He appeared there in an undershirt, then in a moment disappeared. . .. No one of the big  crowd that gathered around the ruins this morning had seen Mr. Green since last evening."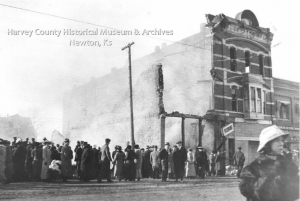 A group of about forty men worked  to move debris in the area where they believed Green's rooms would have been. At about 2:00 in the afternoon, Phil Lagree, foreman of the Newton street department, "picked up something with his shovel that looked like flesh."  The paper  noted that even though "his features were unrecognizable" the body of W.T. Green had been found. From the location of the body, it looked "as though he had made an effort to get out in the hallway when the floor caved in."
Green, a Civil War veteran, was an early settler in Harvey County.  Born in Putman County, Ohio, in November 1846, Green served with the 194th Regiment Ohio Volunteers Infantry Company I in 1865.   He moved to Harvey County in 1872 with his wife, Mary Smith Green, and three children. Here, he homesteaded a hundred and sixty acre farm in Darlington Township, section 15.
After several years, he moved to Newton.  In 1898, he served as a clerk of the district court and for several years, worked as engineer at the city water works. His wife, Mary, died in February 1905.  For the last years of his life, Green, was not employed and lived on the third floor of the opera house where he felt "at home in his old room."
On that night, Green was unable to escape the blazing building.
The Kansan reported;
"During the excitement of getting the people out of the rooming house . . . it was not known that he had not escaped . . . when several remembered having seen a man's form at the window . .   the whole building was in flames and had it really been known for a certainty that a man was in the building, it would have been impossible for any one to attempt to rescue him."
Green was survived by three children, Mrs. Joe Shuck, Mrs. L.C. Palmer and Frank C. Green and was buried in Greenwood Cemetery, Newton, Ks.
Sources:
Newton City Directories: 1885, 1887, 1902, 1905, 1911, 1913.
Evening Kansan Republican, 1 January 1915
Newton Kansan Republican 2 January 1915, "Willis T. Green Met Awful Death", p. 1.
Evening Kansan Republican, 1 January 1915
Newton Journal 8 January 1915.
Newton Kansan Republican, 6 February 1905 "Mrs. Willis Green Dead", p. 1
Edwards Atlas, Darlington Township, 1882.
194th Regiment Ohio Volunteers Infantry Company I at http://www.civilwarindex.com/armyoh/rosters/194th.oh.inf
U.S. General Index to Pension Files, 1861-1934, Wilson t. Greene, 1890.
U.S. Veterans Adminstration Pension Payment Cards, 1907-1933, Wilson T. Greene, 1907-1933.
Sgt W.T. Green, Find A Grave Memorial #43771804
Mary E. Greene, Find A Grave memorial #43771835
Burial Record for Willis T. Greene and Mary E Greene at http://newton.harvey.ks.govern.com/cmquery
Fent, Mary Jeanine. Ragsdale Opera House — Newton, Kansas, 1885-1915. MA Thesis, University of North Carolina at Chapel Hill, 1977. HCHM Archives.
HCHM Photo Archives
Next week, Part 3 will conclude the series with businesses affected by the fire.