by Kristine Schmucker, HCHM Curator
There are thousands of stories waiting to be discovered at the Harvey County Historical Museum & Archives. Since we have recently hosted several programs related to the Civil War, I did some exploring in the  John C. Johnston Collection of Civil War Pensions. This collection contains a wealth of information on Civil War veterans and their families that settled in Harvey County. Fox Winne was the name I picked for this blog post.
In late April 1863, 20 year old Fox Winne joined the 11th Kansas Cavalry, Co. G. which was involved in a number of skirmishes on the Kansas/Missouri border.  From August 20-28, the 11th Cavalry was involved in operations against Quantrill during his raid in Kansas under the command of Col Thomas Ewing,Jr.   Co. G also acted as body guard to General Samuel Curtis at Fort Leavenworth, Ks.
The 11th Kansas Cavalry mustered out of service at Fort Leavenworth, July 17, 1865.  The regiment lost 173 men in roughly 2 years; 63 killed during or as a result of battle, 110 died of disease.
Fox Winne had come to Kansas in 1855 at the age of 12 with his parents Jacob and Magdalena Fox Winne.  The family originally was from Minden, New York and had spent time in Illinois before settling in Riley County near Manhattan, Kansas.  After the Civil War, in 1866, Winne married Mary E. Haulenbeck.  By 1880, Fox and Mary with three children were living in Newton, Kansas.
Thirty-six year old Winne was listed as 'a lumber dealer.'  Between 1876 and 1880, Winne established the Newton Lumber Co at 113 E. 6th, Newton.  No doubt he was able to take advantage of the building boom of the mid-1880s.
Eventually, a son-in-law, John B. Olinger, joined Winne in the business.
The war left it's mark. Winne experienced health problems throughout his later years, some related to his two years in the cavalry. In the 1890s, he worked with John C. Johnston to apply to the Department of Interior, Bureau of Pensions to file a claim.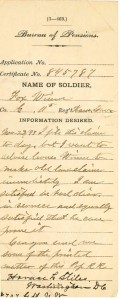 He received his pension with the diagnosis of "Disease of the Digestive Organs and Piles" and "Chronic Diarrhea."

According to other documents in the file, he "contracted  Chronic Diarrhea and piles which has resulted in fistula disease of rectum" at Ft. Leavenworth, Kansas, April 1, 1865.   At that time he was treated at the Ft Leavenworth hospital, but apparently continued to experience problems for the rest of his life.
These health difficulties did not stop Winne for seeking business opportunities, both in Newton and in Texas.
In 1894, the state of Texas opened the eastern section of Chambers County for settlement under a homestead grant.
The Santa Fe Railroad saw an opportunity and sent Newton businessman, Fox Winne as an engineer to review the prospects.  In 1895, the town of Winnie, Tx  was surveyed and named in honor of Newton contractor and investor, Fox Winne.
Fox Winne died at the age of 84 on July 20, 1927.  He had been in poor health for two years. He was survived by his wife, Mary, sons John, Elmer and Grant and daughter Maud Winne Olinger.
Note on the name "Winne." In most of the historical documents, the last name is spelled "Winne," including  census', pension records and tombstones.  For some reason, a change occurred with the naming of the town "Winnie" and on the marriage certificate of his daughter, Maude where it is "Winnie."
 Sources:
Winne, Fox File. John C. Johnston Collection of Civil War Pensions, HCHM Archives, Newton, Ks.
U.S. Census, 1880
City Directories for  Newton, Ks 1885, 1887, 1902, 1905, 1911, 1913, 1917, HCHM Archives, Newton, Ks
Voters Registration List 1882-1902, HCHM Archives, Newton, Ks
Evening Republican Kansan 20 July 1927, 10 Dec. 1934.
http://www.civilwaronthewesternborder.org/content/henry-barnes-henry-boothe-fox-winne-and-nd-horton
http://www.pddoc.com/skedaddle/010/0078.htm
U.S. Civil War Soldiers Index, 1861-1865.
U.S. National Park Service, Battle Unit Details – The Civil War at www.nps.gov/civilwar/search-battle-units-detail.htm.
Winnie Area Chamber of Commerce – Winnie Early History at winnietexas.com/early-history/
County Markers at uncoveredtexas.com/texas-historical-markers-detail.php?city=Winnie&county.