by Kristine Schmucker, HCHM Curator
Did you recognize the scrolls on the building at 601 Main?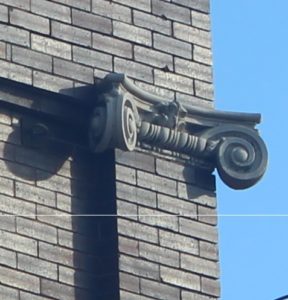 This weekend Prairie Harvest is celebrating their 17th Anniversary of business.  Enjoy this history of the building at 601 Main, Newton through photos. Which one do you remember?
The Bentley Block, 1880s
1885 Newton City directory lists the following businesses at the location: German National Bank (601 Main); Bentley & Perde Real Estate Brokers (601 1/2); Bowman & Bucher, Attorneys (601 1/2); J.W. Murphy, Real Estate (106 W. 6th); Gross, Boyd & McConnell, Barbers (104 W 6th); E.E. Sellers, Cigars (104 W 6th).
Hanlins Department Store: "The largest Cash Department Store in the State" ca. 1905.
Hanlins Mercantile Gets a New Look  in 1911.
The front of the building was significantly altered, changing the main entrance and adding an imposing front facade in 1911.
The Era of J.C. Penney & Co and more Changes, 1957
More changes for the front facade when the cornice was removed sometime in 1957.
More drastic changes  in the 1960s/early 1970s when metal siding was installed over the front facade of the building at 601 Main.
Businesses since J.C. Penney & Co closed.
A Revitalized Building and a Return to the older facade.