by Kristine Schmucker, HCHM Curator
During the Great War, chemical weapons were used on both sides. The French were the first to use gas grenades of xylyl bromide against the Germans in August 1914. In October 1914, Germans used a gas that caused violent sneezing fits, but it was not fatal. Chlorine, a poisonous gas, was introduced to the war in April 1915 during the Second Battle of Ypres by the Germans.  Mustard gas was developed by the Germans and in use by September 1917.  This gas was a nearly colorless, odorless gas that caused internal and external blisters.  Soldiers in the trenches were always on the look out  for an attack and the army provided them with gas masks for protection.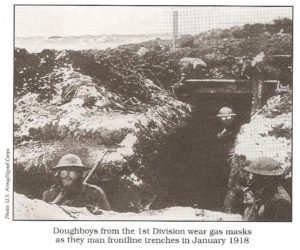 The wearer of the mask breathed entirely through his mouth, his nose pinched shut by a clamp attached to the mask.  The wearer had to hold their breath 6 seconds while the mask was adjusted.  With only four breathes a soldier could inhale enough poison gas to kill.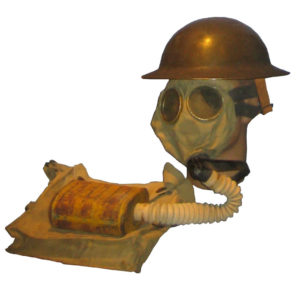 The bag containing the gas mask and respirator was a constant companion of the soldier and there are several in the collection at HCHM.  In a letter home dated October 4, 1918, Lt Harold M. Glover wrote: "It is my opinion that the gas is the most horrible part of the whole business."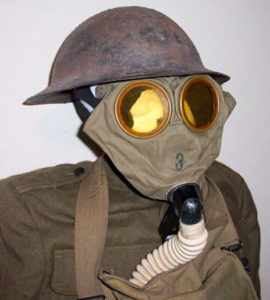 Loy A. Hege, a Harvey County native, died as a result of inhaling gas during battle  in France in August 1918. Hege was born near Halstead, Ks.October 2, 1893 to Mr. & Mrs. G.A. Hege.   As a young man, he  moved to Emporia and graduated from Emporia High School in 1912. He continued his education at Emporia College and received his B.S. Degree from the Kansas State Normal in 1916. He then taught at Abilene High School, Abilene, Ks.  He met  Jane J. Lewis and they were married at her home on 506 Market in Emporia.  Hege completed officer's training in August 1917 and was a  2nd Lt, Co. A, 355 Infantry.
A Letter Returned
His family in Harvey County kept in contact with him during the war. Sadly, one letter was returned to his Aunt Kate, after his death in France.
"With Deepest Sympathy"
Lt. John Richards  had the difficult task of writing to Hege's relatives in Kansas.
"It is with deepest sympathy that I write you of the death of Loy Hege, a noble and ever-inspiring officer, a true friend and a pal to all."
Richards goes on to describe what happened to cause Hege's death.
"The position occupied by our Company was opened on with shrapnel and gas shells the night of August 7th and he was severely gassed.  He was taken to the hospital about 6:30 am where nurses and doctors did all in their power for him, but to no avail.  He died on the afternoon of August 15th.  He realized the day before his death that he was to go and his last thoughts were of home and home folks."
Lt Hege was buried in the military cemetery north of Toul, France, grave number 191.
Twenty-six days later his wife gave birth to his daughter.
His body was returned to Emporia, Ks on July 22, 1921. A funeral was held at the home of his widow at 5th and Market in Emporia on July 25, 1921. He was buried at Maplewood Cemetery, Emporia, Ks.
Sources:
Letter from Kate, Halstead, Ks to Lt. Loy A. Hege, 25 August 1918, copy of original. Original in possession of Hege Family.
Evening Kansan Republican: 10 September 1918.
Hodge, Robert, Find A Grave, Lieut Loy A. Hege,#42193268