by Kristine Schmucker, HCHM Curator
Spend time in some of the older homes in Harvey County and you might run across some interesting woodwork.
These doors reflect a popular way to decorate your home during the late 1800s into the early 1900s known as "graining" or "false graining."  The effect was achieved with tools similar to a graining kit we have at the museum.
The practice of graining became popular in the United States because it was a way to make inexpensive wood, like pine, look like more expensive, less available  wood like oak, mahogany and cherry.
Our graining kit was patented in 1908 by the Ohio Varnish Company, Cleveland, OH as the "Original Ready-to-Use Chi-Namel Graining Process." For "a little under 2 cents per square foot" a plain floor could become a "Hard Wood Floor with Maple Inlaid Border"  or have the effect of a natural oak floor.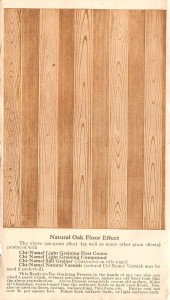 The front page of the instruction booklet explains, "Any one can apply it – previous experience not necessary." The kit in our collection was no doubt ordered by someone interested in completing their own project, not a professional grainer.  There were people, however, that were skilled in the art and available for hire in south central Kansas.
Newton experienced a building boom in the early to mid-1880s.  Many of the homes along West Broadway and East First were built during this period. The 1885 Newton City Directory has nineteen individuals that identified "Painting" as their occupation and one woman, Mrs. F.M. Hurlbut, who worked with "Decorative Art Material."  There is a separate category in the directory for construction. Those painters that had skill in graining would usually be paid more.
At least two area men were known for their graining skills.
Emil Kym (1862-1918) lived in rural Harvey County near the Alta Mill community.  He was  well known for his work which included wood-graining, marbleizing and even full scale murals of the Swiss mountains.
The second was John L. Caveny, father of J. Franklin Caveny.  John L, along with wife, Louisa, and two children came to Kansas from Pennsylvania in the early 1870s.  About the same time, his parents, James and Susan, and brother, H. Wayne Caveny, also moved to Newton, Ks.  H. Wayne Caveny also worked as a contract painter.
The Reese House, built in 1879 by John Reese, has several examples of false grained doors.
Reese House interior, ca. 2014. Note door with false graining. Photo credit: http://www.trulia.com/homes/Kansas/Newton
At this time, we do not know who created the wonderful interior doors at the Reese House. We do know that John L. Caveny was working in the area as early as 1876. He and his brother may have worked on the home.
The Caveny brothers continued to work as a painters in Harvey County.  John L. Caveny died in 1920 at the age of 80. Described as "a very useful and valued citizen of Newton," J. L. Caveny also served as county clerk for several terms.
False graining enjoyed renewed popularity in the 1970s with a renewed interest in preserving historic structures.
Find out more about the process at these  two do-it-yourself sites.
http://www.oldhouseonline.com/create-faux-wood-grain-finish/
http://www.homedepot.com/hdus/en_US/DTCCOM/HomePage/Commerce/Building_Supplies/Paint_Sealers_Supplies/Interior_Paint/Docs/MS-LowRes-5-26-final-Eng.pdf
Sources:
"Honored Citizen For Many Years Passed on This Morning" Evening Kansan Republican, 4 October 1920.
Newton City Directories: 1885, 1887, 1902, 1905, 1911, 1913, 1917. HCHM Archives.
U.S. Census 1880, 1900.
Stucky, Brian.  "Who Was Emil Kym? 13 August 2008 at  http://www.usd411.org/vnews/display.v/SEC/Facilities%7CEmil%20Kym%20Art%20Gallery%3E%3EWho%20Was%20Emil%20Kym%3F
http://www.oldhousejournal.com/magazine/2004/aug/art.shtml