by Kristine Schmucker, HHM Curator
Newton alumni have scattered far and wide over the decades and contributed to their chosen field far beyond Kansas. Some might be quite well known, others have quietly left their legacy. Ruthabel Rickman Rollins was a Newtonian who "made it" in New York as an opera singer in the mid-1940s. Despite that success, her career teaching vocal music and conducting was perhaps a more significant contribution.
Born September 16, 1920, to Lloyd and Hazel Allen Rickman, Ruthabel, and her two brothers, Lloyd and Kenneth, grew up in Newton and attended Newton schools.  The family lived at 304 W. 12th, Newton. She graduated from Newton High in 1938. Her father, Lloyd, was a musician and the driving force behind "Rickman's Band," which the Evening Kansan Republican in 1909 called "the best colored band in the state."
Perhaps following her father's inspiration, Ruthabel focused on music for her career. While a student at Bethel College, Ruthabel studied voice, piano and organ and was a member of the A Cappella choir.  She graduated in 1941.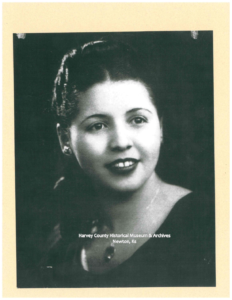 Following graduation, Ruthabel taught public school for three years before moving to New York City. In New York, she joined the cultural community as she continued to hone her craft and teach in her own studio. Ruthabel was involved in various performances including several opera productions.
In 1945, a New York City newspaper headline noted that "Concert Is Given by Altrusa Opera" featuring Ruthabel Rickman. The Altrusa Opera Company worked to encourage "Negro" musicians and composers.  Rickman is listed as a soprano for the event, probably singing Verdi in New York City's Town Hall.  She also performed at the newly founded Amato Opera Theater in Greenwich Village. Ruthabel Rickman was talented enough to survive the New York cultural scene.
Ruthabel married Frank Rollins in Chicago.  The couple moved to Houston where she served on the faculty of Texas Southern University (TSU) teaching voice and choral conducting until her death in 1982.  During these years of dedicated teaching with co-professor, Ruth Stewart, Ruthabel influenced the next generation of singers and conductors.
In 1979, Ruthabel received Bethel's Distinguished Achievement Award.
She died December 8, 1982 and was buried at the Houston Memorial Gardens, Pearland, TX.
After her death, the building she taught in on the TSU campus was named the "Rollins-Stewart Music Building" in her and Stewart's honor. In addition, the choir she conducted produced a record in her memory "Ruthabel Rollins Conducts the Texas Southern University Concert Choir with three unaccompanied Spirituals sung by Ruth Stewart," to honor the beloved and respected teacher.  A later memorial service held at Bethel College included a performance from her TSU choir and Hazella Rollins Epps, her daughter.
A home-grown talent, Ruthable Rickman Rollins made her mark on the world's stage through a very remarkable career of performance and teaching.
For more about Ruthabel Rickman Rollins career in New York, see "Newton's Ruthabel Rickman Shares the Page with Bogart & Bacall" a May 2013 blog post by Jane Jones, HCHM Archivist. http://harveycountyvoices.blogspot.com/2013/05/newtons-ruthabel-rickman-shares-page.html