by Kristine Schmucker, HCHM Curator
"Over Dickey's Drug Store"
In the April 19, 1883 Newton Kansan a small ad appeared announcing the partnership of two physicians, Drs. J.D. Sherrick and J.T. Axtell.  They rented office space "over Dickey's drug store" at 611 N. Main, Newton, Ks.
Two months later, Dr. Sherrick moved to Seattle, Washington, leaving Dr. Axtell alone to meet the medical needs of the growing community. Eventually Drs. T.C. Brewer and W.C. Nolder joined the practice.
"All the Modern Improvements"
The practice quickly out grew the office on the second floor of Dickey's Drug Store, and Dr. Axtell began planning a small hospital with an emphasis on care for surgical patients.  He purchased several lots on the second block of East Broadway, Newton, including a six room house. In an interview with Dr. Axtell regarding his plans,  the Kansan  reporter noted that Axtell planned to renovate the building and "supply the rooms with all the modern improvements."  By spring 1887, Dr Axtell's hospital was ready for patients.
Formally established in 1887, Axtell Christian Hospital became the 5th general, non-military hospital in Kansas. The hospital was also unique that it was the first to be privately owned by a physician.
In 1911 a new fireproof hospital was built at the east Broadway location.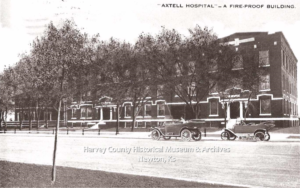 Sources:
Newton Kansan, 19 April 1883, 17 February 1887, 19 May 1887.
Myers, Lana W. Newton Medical Center:  Merging the Past with the Future. Mennonite Press, Newton, Ks, 2006