by Kristine Schmucker, HCHM Curator
When the Newton Free Library opened in it's new building in March 1904 at the corner of 2nd and Main, the front two rooms were furnished as reading rooms.  Patrons would request the book they wanted and the Librarian would go to the stacks in the room behind the desk and retrieve the requested item.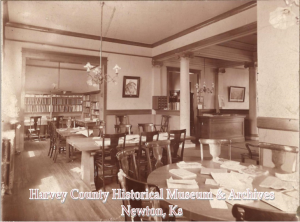 From that time, only two objects remain at the Harvey County Historical Museum & Archives. The below picture hung behind the Librarians desk on the south side.
This pen and ink drawing was created in 1898 by Will R. Murphy, a prolific Harvey County photographer at the turn of the century.
There is no indication on the piece of the identity of the man who is the subject.
Could it be a self portrait?
Around the same time, Murphy drew Newton's Main Street, 1871, based off of a photograph attributed to F. D. Tripp.***Note: 04/2020 further research revealed that it is unlikely that the photo was taken by Tripp.
Who do you think the mystery man might be? Why was it given to the library?
At this point we do not have answers, but the drawing continues to be an intriguing part of the the building's history.
There is one other object that was part of the original furnishings of the Carnegie Library Building and remains in the Museum's collection.  Any guesses?
Answer next week.
For more on Early Harvey County Photographers.