by Kristine Schmucker, HCHM Curator
Several newspaper correspondents were in Newton covering the cattle drives that summer.  Murder and revenge filled the headlines in the days following the "General Massacre" adding to Newton's image of lawlessness. The Topeka Daily Commonwealth reported on the violence on 22 August 1871.
"We received . . . the following full and graphic account of the Newton tragedy, from a correspondent of the N.Y. World.  We publish it to the exclusion of our usual variety of local matter, knowing that it will be read with interest by our readers.

On Sunday last . . . Blood and murder was rampart to an unusual degree. . . .Ever since the shooting affair between McCluskie and the Texas man, Bailey, which resulted in the death of the latter . . . "war" was declared to the bitter end against McCluskie . . ."
Accounts of the shoot out varied.  All agree that Anderson shot McCluskie, and that McCluskie attempted to return fire, but his gun misfired. What happened next, took the fight beyond the two men. After Anderson shot McCluskie, another unknown person began firing.
The Commonwealth/N.Y. World  reporter "Allegro" credited an unnamed "Nemesis" with most of the shooting to avenge McCluskie's death in an 22 August 1871 article:
". . . there is an avenging Nemesis on track.  A stalwart figure suddenly appears on the scene.  For an instant he remains motionless, as if studying the situation.  Then a sheet of flame vomits forth, apparently from his hand, and a Texan staggers from the room across the area and falls dead at the door of the "Alamo".  Another and another and another shot follows, until six men . . . have bowed to his prowess."
Most accounts agree that Jim Martin, the first person shot by the second gunman, ran out of the door, bleeding from the neck, and fell dead in front of Krum's saloon, the Alamo.   Martin was a well liked and most agreed that he was an innocent bystander who tried to calm the situation down.  Instead, he was fatally shot.  After Martin, six more men were shot. The original shooter, Hugh Anderson, was severely wounded. Patrick Lee, a brakeman for the railroad, and Texans Billy Garrett and Kearnes were fatally shot, each dying after several days.  Two other men, James Wilkerson and a man known as  Hickey, were wounded and later recovered.
At 8:00 o'clock Sunday morning, Coroner C.S. Bowman held an inquest into the deaths of Mike McCluskie (aka Art Donavan) and Jim Martin.  After investigating for four and a half hours, the jury found "that Martin came to his death at the hands of some person unknown, and that McCluskie came to his death at 8 o'clock a.m., this 20th day of August, by a shot from a pistol in the hands of Hugh Anderson."  The finding angered the Texans, who promised that the bodies of the jury would be found "ornamenting neighboring telegraph poles" if Anderson was arrested. Fear was rampant the next few days in Newton.
The Emporia News reporter concluded that "this was the bloodiest affrays that ever occurred in our State."
Anderson's father soon arrived in Newton to insure the best medical care for his son, Hugh. He also appealed to Newton's leading citizens for assistance with his son.  These businessmen wanted no more trouble and a plan was devised to sneak Anderson out of town on a  train.  Judge Muse recounted Anderson's escape from Newton.
"The excitement was intense, and the City Marshal, Tom Carson, and his assistants, all heavily armed . . . Were parading the streets, day and night, with warrants for the arrest of Anderson. [His father], a gray-haired and amiable old gentleman . . Bowed down with shame and sorrow at the conduct of his sons," came to consult with Muse and others.
Once Dr. Boyd determined that Anderson could be moved, a group of men including A. Baker,  George Yocum, Judge Muse and Dr. Boyd began their work. A litter was constructed, and at 2:00 a.m. Anderson was removed from the back door of Hoff's store where he had been recuperating.
"To avoid detection, we carried him north, past the residence of Dr. Lewis, and there striking the cattle trail, followed it down to the car.  The night was dark and rainy; the grass rank, high and wet, and the ground muddy, and our task a hard one, as we dare not use a light."
Anderson was placed in a car with a closet that was then locked.  All of this had been arranged with the conductor.  He was to remain in the rail car until he reached Kansas City.
The Abilene Chronicle August 24, 1871 concluded:
"Thus ends the third or fourth chapter in Newton's bloody history-a town only a little over three months old. . . . But if the worse than beastly prostitution of the sexes is continued, and the town is controlled by characters who have no regard for virtue, decency or honor, it will not soon become fit for the abode of respectable people."
Despite the efforts of Newton leaders,  violence continued into the fall.  On September 23, Deputy Sheriff Carlos B. King was shot by Thomas Edwards.  While making rounds in a dance hall, King had taken Edwards' gun.  Later, Edwards shot King as he stood "in the same fated area which drank the blood of Martin and other victims of the Sunday morning horror a month ago . . ."     
By the start of the new year things had begun to change.  The cattle trade  moved to Wichita in the spring of 1872  and with it many of the "cowboy businesses."  Judge Muse noted many "that depended upon the cattle trade were closed or sold out at very low figures." A year later the newly established Newton Kansan reported in September 1872 that  "one by one these old barbaric domiciles are being remodeled into fit places for good society." 
Perry C. Tuttle was one business owner that left early.   Perhaps, he was weary of the violence or realized that the cattle trade was coming to a close in Newton. Tuttle sold his business to shady person whose last known residences was above Tuttle's saloon, James Shay, in February 1872.
Perry C. Tuttle left enough of a paper trail that we know a bit about his life.  Born in Wisconsin in approximately 1845,  Perry was  living with his parents, Chester C. & Betsy Tuttle  in Beloit, Rock County, Wisconsin in 1850. His father was a farmer.  By 1860, the Tuttle family, including Perry,  had moved to  Topeka, Shawnee Co., Kansas. From 1862 to 1865, Perry served with the 11th Ks Calvary Co. E . under Maj. Edmond G.Ross along the Kansas/Missouri border. The 1865 Kansas Census lists  Perry C. Tuttle, age 25,   living in Topeka, Shawnee Co., Ks.  He owned a livery stable and was married to a dressmaker named Bertha.
In 1871, he operated a saloon in the new town of Newton, Kansas.
He next appears in the 1880 Census as a 34 year old Saloon keeper, married to Jane with one small daughter, Frances.  Tuttle died in 1898/1899 and was buried in Graceland Cemetery, Creston, Union County, Iowa.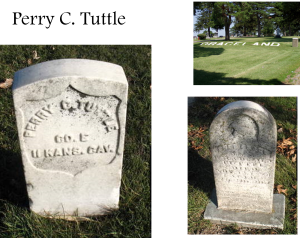 Hugh Anderson reappears in history one more time. He recovered from his wounds in Kansas City.  However, he had to look over his shoulder for the rest of his life.  Mike McCluskie's brother Art had vowed revenge.   Anderson and McCluskie met again at Harding's Trading Post in Medicine Lodge, Kansas on 4 July 1873. Art McCluskie challenged Anderson to a dual; Anderson could pick the weapon.  He chose the gun. Both men died in the brutal gun/knife fight that followed. On lookers were "sickened at the brutality."
New Information has come to light regarding the fate of Hugh Anderson.  See our blog posts on the  Duel that Never Happened. (added on 4 September 2015) and Texas Cowboy, Desperado, Businessman (added 11 September 2015).
Newton's bloodiest days may have been over, but the stories about  the "General Massacre" were just beginning, including those about the  identity of the unknown gunman. Our next post, "A Boy Named Riley" will conclude our series on Newton's Bloody Sunday.
Sources
Allegro,  N.Y. World correspondent; "To the Editor of the Commonwealth," 21 August 1871
Abilene Chronicle 24 August 1871
Emporia News, 25 August  1871
 Kansas Daily Commonwealth,  (Topeka) 22 August 1871, 23 August 1871,  27 August 1871, 27  September 1871, 28 September 1871
Newton Kansan, 26 September 1872
Kansas Census 1865, 1875
United States Census, 1850, 1860, 1870, 1880
http://usgwarchives.net/ks/shawnee/shawnee.htm
Register of Deeds, February 28 1872  Lida and Perry C. Tuttle to James Shay, HCHM Archives, Newton, Ks
Accounts:
Muse, Judge RWP. History of Harvey County, (1881) Harvey County Historical Museum and Archives, Newton, Ks. First published in Edwards, John P. Historical Atlas of Harvey County, Kansas. Philadelphia, 1882.
Hunter, J. Marvin, ed.  The Trail Drivers of Texas.  2 Vols.
McCoy, Joseph G. Historic Sketches of the Cattle Trade of the West and Southwest, 1874.
Secondary Sources:
Coke, Tom S. "Fight to the Finish" at http://4jranch.com/cokestories/AndersonH. 2001.
Davis, Christy. "Rediscovering Newton: An Interpretive Architectural History"  Master's Thesis, WSU, 1999.
Drago, Sinclair Wild, Wooly and Wicked: the History of the Kansas Cow Towns and the Texas Cattle Trade. New York, 1960.
Dunlap, Great Trails of the West, New York: Abingdon Press.
Miller, Nyle and Joseph Snell.  Why the West Was Wild.  Topeka, Ks 1963.
Toews, Dudley Dodgion.  Newton, Remembering Yesterday Today, 1994.
Streeter, Floyd B.  The Kaw: Heart of the Nation.  New York: Farrar and Rinehart, 1941.
Waltner, John. '"The Process of Civilization on the Kansas Frontier, Newton, Kansas, 1871-1873" MA These, University of Kansas, 1971.
This three part blog series is adapted from our Speaker's Bureau Program, "Newton's Bloody Sunday."  For more info on our Speaker's Bureau and programs available see:  https://hchm.org/speakers-bureau/