by Kristine Schmucker, HCHM Curator
Saturday, June 14, is Flag Day – a day that commemorates the adoption of the Untied States flag on June 14, 1777.  On that day, 237 years ago, congress  declared the "Stars and Stripes" the official national symbol of the United States.  The entry in the journal of the Continental Congress 1774-1789 Vol. Vlll 1777 reads:
"Resolved that the flag of the thirteen United States be Thirteen stripes alternate red and white: that the union be thirteen stars, white in a blue field, representing a new constellation."
The celebration of Flag Day gradually grew. The first official Flag Day was observed in Philadelphia, Pennsylvania in 1893. New York also proclaimed June 14 as Flag Day in 1897. Other states were slow to follow mainly due to the timing right after Memorial Day and a few weeks before Independence Day.
In our collection at HCHM there are many objects with the United States Flag as a motif, but one of the most unique is the a small beaded watch fob.
Fashion items, like the watch fob,  gained popularity in the late 1890s through early 1900s.  A watch fob usually was a decorative chain attached the  pocket watch to a man's belt or vest button. The chains was usually metal and sometimes  horse hair.
Examples of chain watch fobs.
Over the years of interaction with Europeans, American Indians adapted their traditional techniques to make new objects for trade. Based on the popular chain watch fobs, Native Americans utilized beads and traditional skill to make an unique object. The watch fob in our collection is beaded with cotton thread and was probably made in the 1920s.  It was donated as part of the Ruby N. Perkins Estate in 1966.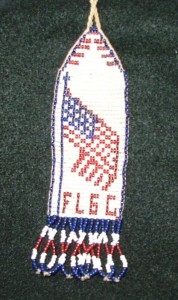 Did you know?
The U.S. flag is one of the most complicated in the world. The current flag has 13 red and white alternating stripes (representing the original 13 states) and 50 stars (each star represents one of the states of the Union) on a blue background. It takes 64 pieces of fabric to make the U.S. Flag.
Akers, Andrea.  American Indian Watch Fobs: Evidence of Cultural Entrepreneurial Continuity and Change.  http://digitool.library.colostate.edu///exlibris/dtl/d3_1/apache_media/L2V4bGlicmlzL2R0bC9kM18xL2FwYWNoZV9tZWRpYS84MjkzNg==.pdf
For more on Flag Day see: http://www.nationalflagday.com/default.asp