When Jane Jones, HCHM Archivist, picked two documents as one of her favorite things for the exhibit Stuff We Love, I had never run across the term "Zulu Car."   She shared a story from her family to explain why she picked this correspondence. Her grandfather, dad and uncle came to western Kansas ahead of the rest of the family in a "Zulu Car." The family's possessions were shipped in the car.
My grandfather, who had paid to ride in the boxcar along with their possessions, hid my Dad and Uncle, who were not paid passengers, in the car and told them to be "Quiet. Don't even sneeze!"
The correspondence from two Atchison, Topeka & Santa Fe Railroad employees, M.L. Saregent, General Freight Agent and Jerry Toles, Gen'l Southern Agent to C. Fisher, Ill, in March 1874, gives additional clues about traveling by train to the frontier.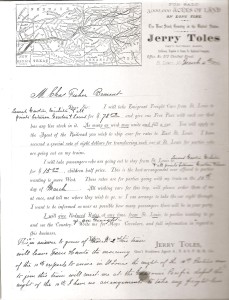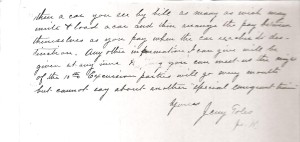 Toles indicates that the cost for "Emigrant Freight Cars from St Louis to Larned, Newton, Wichita and all points between Newton & Larned" is $73.00 with one free pass for cars with live stock.  Presumably, the one person would be the care taking for the livestock.  Passengers were $15.00 with children at half price.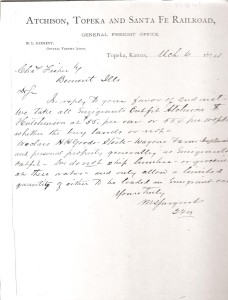 Train travel by 1850 was not comfortable.  Passenger cars were simple and functional. Seats were unpadded, upright benches crammed as close together as possible. Ventilation was provided by an open window. Later, these cars became known as "Zulu Cars." After the Civil War, there was a push to go west and many of the would be homesteaders had very little money.  They traveled as cheaply as possible.  Zulu cars helped achieve this goal.
The term "Zulu" came from England.  After the British defeated the African Zulu tribes, they engaged some  of the warriors with families to make a railway exhibition tour of England. In the U.S., "Zulu" came to refer to the boxcars that emigrants, who were known as "Zulus," rode on to go west. Zulu cars had very few comforts. The trip was usually longer as regularly scheduled  trains took priority.  The passengers were also often treated poorly, but they were able to travel cheaply.
By the late 1800s travel by rail had improved with introduction and refinement  of the "Pullman" car.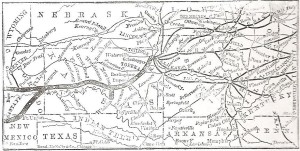 Sources
Binculli, Anthony J. Trains & Technology: Cars. 

Volume 2 of

Trains and Technology: The American Railroad in the Nineteenth Century. 

University of Delaware Press, 2001.
"Passenger Equipment of the Early Years" at www.northeast.railfan.net/classic/CARdwgs22