Our current exhibit, Fathers of Invention, features inventions by local people. An earlier post featured Michael B. Adams. Another inventor featured is Allen A. White.
Born August 27, 1912, Allen A. White grew up on his parents' farm in Harvey County and attended Newton High School where his favorite classes were Public Speaking and Vocational Agriculture.  He married Edna Horst September 27, 1936, the couple had six children—5 boys and one girl.  White also served as a minister in the Mennonite Church.
White had a "flair"  for mechanical devices and by age 25 he obtained his first patent for a variable-speed wind charger.
"There had to be a better way. . . "
In 1946, White's "flair" to improve the way things work led him to his next invention.  White observed a man jacking up a car to repair a flat tire with both an axle and a bumper jack.  He thought "there had to be a better way."  In a shop he set up in his garage, he began experimenting and eventually developed the "White Triangle Chain Jack."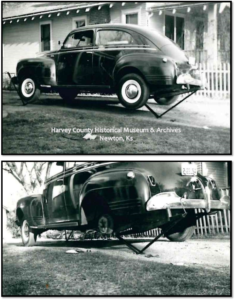 Sales from the new jack paid for White to attend college at Hesston College and Friends University. He continued to  invent and improve everyday objects for the rest of his life.

After a few years living and working in Wichita, White moved his growing family to a farm near Peabody, Ks.  He lived the rest of his life in the Peabody—Hesston area.  He established White Industrial Lab in Peabody, Ks. In 1952 he began working with the Hesston Manufacturing Company, Hesston, Ks as an engineer and inventor.  Over the 25 years of his employment at Hesston Corp, he was issued 41 patents, including one for the Baler Model 4800 in 1978.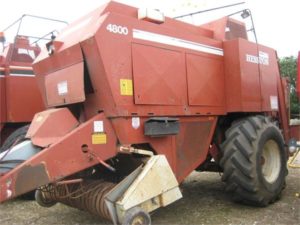 In 2003, Agco, formerly Hesston Corp,  produced the 25,000th of the large square balers designed by White twenty-five years earlier.
Other Hesston Corp Projects
He retired in 1980.
Even in retirement  he continued to look for ways to help people through better tools.  He had four patents of his own. One of last inventions he worked on was the "Tool for the Application of Elastic Stockings" to help those who had difficulty putting on support stockings.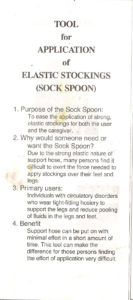 White died in 2003.  The writer of his obituary noted that he was  "a gifted man. He helped build equipment and machinery with his family and was always willing to help others."
Thank you to Kauffman Museum, N. Newton, Ks for loaning a collection of White's prototypes and photographs for the exhibit, Fathers of Invention.  Our thanks  also to Roger White for loaning a Triangle Jack for the exhibit.
The exhibit, Fathers of Invention, is up through May 2018.
Sources:
Allen A. White Papers 1924-2001, MS 537, Mennonite Library & Archives, N. Newton, Ks

Allen A. White Collection on loan from the Kauffman Museum, North Newton, Ks.

Patents by Assignee Hesston Corporation.  http://patents.justia.com/assignee/hesston-corporation

"Allen A.White" obituary.  Mennonite Weekly Review 28 April 2003, No. 17, p. 2.

"Service of Worship in Memory of Allen Andrew White,  Life Sketch" Whitestone Mennonite Church, Hesston, Ks 18 April 2003.  HCHM Curator Biographical Files.

"25,000th Large Square Baler Celebrated in Hesston, Ks." Author Anne, May 17, 2013. http://blog.agcocorp.comtag/large-square-balers