by Kristine Schmucker, HCHM Curator
What is it?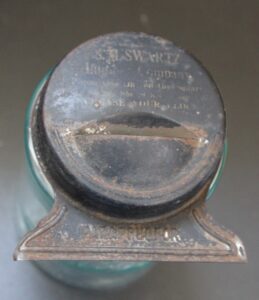 Some of you may have recognized the object as a Chicken Waterer. This one consists of a glass quart jar with chicken water lid with advertising on it.  The object is an advertising gift from the S.M. Swartz Lumber Co, Newton Ks, located "On the Square." Swartz Lumber Co was established at 322 Main, Newton in 1895 S. M. Swartz.
Swartz Lumber
S.M. Swartz arrived in Newton in 1897 from Minersville, Pa. He began working for  for Fox Winnie at Chicago Lumber Co, Newton. In 1895, Swartz purchased the unique building at 322 Main for his own lumber business.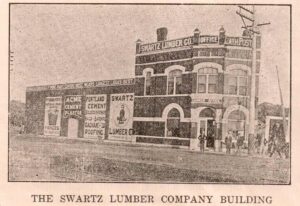 Built in 1880 by Harry E. Dean as an office building, the structure was a landmark  due to its unique shape and location just south of the tracks opposite the Arcade/Depot Building. These two building, along with the Clark Hotel on the northwest corner across from the Arcade gave travelers the impression of a thriving, well off town.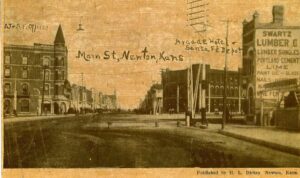 Swartz Lumber thrived and S.M. was  soon joined by son F. R. Swartz.  In 1902.  managed a branch yard established  in Winfield, Ks.  Another son, Lois B. Swartz was also described "a strong factor in its [Swartz Lumber's] growth."
Eventually age and  health required S.M. Swartz to move to California.  W.G. Cheney became manager and eventually purchased the Newton business from the Swartz sons. They kept the Winfield business.
In 1922, Swartz lumber was the oldest  continuing wholesale paint dealer in Harvey County. They were also involved with making bricks in an improved way.
"Years ago the only brick used here were such as were made and burned along Sand Creek. Now the factory-made brick and building tile is very largely used in all sorts of building operations, the tile with concrete construction being now popular, more fire proof, cheaper and quicker handled."
"On the Square"
The 1921 Anniversary Ed  of the Newton Kansan, noted that "The Swartz Lumber company has always adhered to its faith in the potency of printers' ink and the slogan, "On the Square," together with the unique form of giving the phone number, 'One-Oh" has made the business familiar to every reader of the Kansan."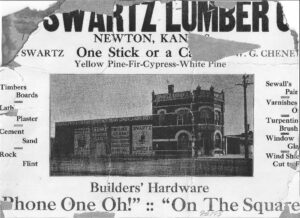 S.M. Swartz home at 427 W.  Broadway remains a private home.
Sources
Western Journal of Commerce, Newton, Kansas, 1902
50th Anniversary Edition of the

Newton Kansan

, 22 August 1921.