by Kristine Schmucker, HCHM Curator
Despite a long history in Harvey County, stories from the Black community have often been ignored. In recent years, efforts have been made to tell some of these stories – stories that  often reveal painful events. The experiences of Black athletes at Newton High School in the late 1940s through the 1950s highlight the difficulties, pain and perseverance of several young men.
The Truth About the Late 40s
In 1997, the Committee planning the 50th reunion for the NHS class of 1948 attempted allow room for Black NHS graduates to share their experiences.  Editor of the 50th reunion book, Norma Werner Wilson, posed this question:
"We need to know the truth about the late 40s . . .Do you remember any incidents that clearly showed bigotry or racial callousness?"
The answers published in Our Journey: 50th Reunion Book NHS 1948-1998," illustrated a community divided along painful racial lines with white student often unaware of the experiences of Black students. Some of the hardest stories revolved around the NHS basketball team and Coach Frank Lindley.
While Lindley was coach at Newton High, 1914-1945, the men's team was wildly successful with several state championships and undefeated seasons. As coach of the high school basketball team, Lindley was insistent that only white students play on the team.  After he retired from coaching, Lindley continued as NHS  principal 1923-1951.
The 1945 Railroader illustrates the long standing division  with one small photo for the  "Colored Team," and several photos for the "NHS Railroader Basketball team."
What was the experience of the Black athlete in the late 1940s? The stories returned to the reunion committee reveal deep wounds.
"But, it was too late for me"
Clifford Rickman, 1948 graduate from NHS,  shared his experiences and thoughts from the late 1940s.
"Unfortunately my memories of Newton High are not the same as yours.  My memories are of the way African Americans were treated.  The school board still has a building named after Coach Lindley, the biggest bigot . . . You were students just like me, but I thought maybe someone would wonder why some of us don't come (to reunions) even after all these years.
Rickman asked  hard questions.
"Did you ever ask when you went to the movies why all the Blacks sat in one place behind a chrome fence? Did you ever ask why Blacks could not ever swim in the city pool? Did you ever ask why Blacks did not skate at the public skating rink?"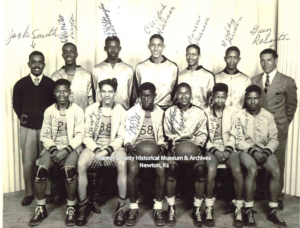 He recalled his experiences on the separate basketball team.
"We had a separate Black basketball team. We had to play other Black teams that were in the same boat we were in.  I remember traveling to towns like Chanute, Salina, Hutchinson . . . Sure they gave us high school letters but only because they used Blacks to play football and run track. Newton never changed until Lindley left. I understand when Ravenscroft took over, things changed —but too late for me."
"Since I couldn't play basketball on the White team, . . . I would not play football on the White team"
Another response came from Clayton Garnett, who also graduated in 1948.
"I must tell you that what Clifford Rickman wrote was true.  Mr. Lindley, who was coach before Mr. Ravenscroft,  . .  would not let Blacks or Mexicans play on the all White basketball team."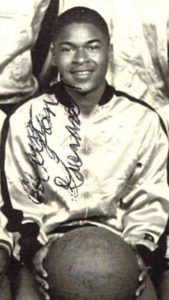 "Mr. Lindley, as principal, agreed to let us form our own team made up of all Black guys and let us play our games in the junior high gym.  He also let us use the old outdated basketball uniforms of the White team. "
They were not allowed to play in the high school gym (Lindley Hall), except by special exemption.
"Our coach was Jack Smith and he got permission to play one game in Lindley Hall because we were playing Tulsa and we knew the junior high gym would not accommodate the number of spectators."
Other sports at NHS did not have these restrictions. Garnett recalled a conversation with the football coach.
"I was asked by the football coach to come out to play on the football team because he saw how fast I was in the 100 yard dash during the Jr/Sr track meet.  But since I couldn't play basketball on the White team, I told him I would not play football on the White team for him.

He stated that the policy would change as soon as Lindley retired.  Sure enough, as soon as Mr. Lindley retired as principal, Mr. Ravenscroft said that anyone could play on the then exclusively White team. My brother, Floyd (Skip) Garnett did just that in 1958."
He also recalled restrictions at public places, like the movie theater and swimming pool.
"We also could not swim in the municipal swimming pool at Athletic Park.  We only had one night every two weeks to skate at the skating rink.  We had to sit in the back of the movie theaters." 
"With Bitter Clarity"
Norris D. Garnett, a Black student from the class of 1949 shared:
"What sticks in my memory with bitter clarity is the racial discrimination and racial prejudice we non-White students had to bear. First there was the matter of the all-White Newton High School basketball team.

We were all great friends in the classrooms and gym, but as soon as school let out, it was as if we didn't know each other."
"I sure didn't know"
In contrast, the response from the white former students reveals an unawareness of what the Black students experienced.
"The thing that  had the greatest impact on me . .. . was the honor assembly  our senior year.  This was when Mr. Lindley introduced the Black basketball team.  I did not know we had such a thing. The  main feeling I had was embarrassment. I'm not sure it was for the boys for being put on exhibit or for the explanation by Mr. Lindley as to why we had the team . . ." – Lee Schroeder
"I never knew we had a separate Black basketball team. I remember being shocked to discover the 'Mexican' girls were not allowed to take showers after gym class." -Jean Maberry Wendt
"I sure didn't know that these guys were not allowed on the team." –Jennie Anderson Beneke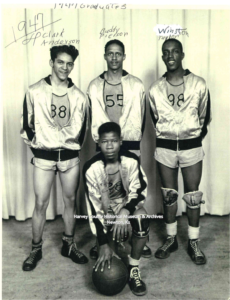 After Frank Lindley retired, things did change at Newton High School.  Community change was also slow.  In a newspaper article  for the 125th Anniversary of the Kansan, Judy Burks concluded;  "Integration laws came.  Minority students began to play on Railer basketball teams in new uniforms in stead of the discarded uniforms of white players." Sadly, it was too late for gifted athletes like Clifford Rickman, Clayton Garnett and Norris D. Garnett.
For Additional Stories:
http://harveycountyvoices.blogspot.com/2012/07/makin-splash.html
http://harveycountyvoices.blogspot.com/2014/02/does-this-mean-all-children-aw-roberson.html
Sources:
Willson, Norma Werner, ed Our Journey: NHS 1948-1998. 50th Reunion Committee, 1999.  HCHM Archives, Newton, Ks.
Newton High Class of 1949, Along the Golden Trail: 50th Anniversary Book of Memories.  HCHM Archives, Newton, Ks.
Burks, Judy.  "On Equal Ground: Stories of Newton's Black Settlers." 125th Anniversary Ed of the Kansan, 1997.