by Kristine Schmucker, HCHM Curator
On Sunday, October 15, HCHM will host Jordan Poland, Director of the Kansas Sports Hall of Fame. He will present Athletic Cathedrals of Kansas. Poland will explore some of the more memorable venues in Kansas,  building them and their role in the community. Newton has it's own sports cathedral in Lindley Hall.
Built in 1934, Lindley Hall was home to some of Newton High's most successful basketball teams under the leadership of Frank Lindley and later John Ravenscroft. The new building could seat from 2,200 to 3,000 people for basketball games.  When used as an auditorium it could seat 1,250 on the main floor and 1,600 in the balconies.
The problem of what to name the new structure was easily solved.
"Acting upon scores of requests from students and townspeople, the board of education . . . formally adopted [Lindley Hall] . . . as a tribute to Frank Lindley in recognition of his long years of service to Newton high school as athletic coach and principal."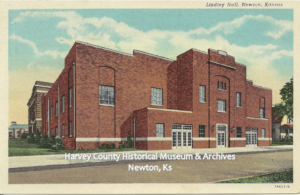 The building measured 122 feet wide by 143 feet long and 44 feet in "extreme height."  The building materials used included 430,000 bricks, 65 tons of steel and 5,000 sacks of cement.
"The best lighted gymnasium and playing court in the state of Kansas"
Over the court, the wide span of the beams, 121 feet, allowed a roof with no pillars anywhere in the building. A new type of goal was also installed. The goal was designed so that it could be drawn up to the ceiling when not needed during games, giving versatility to the space. With 54 recessed ceiling lights, each with a potential 500 watts, Lindley Hall was "the best lighted gymnasium and playing court in the state of Kansas."
In addition to the basketball court, there was a stage, with storage underneath, and two dressing rooms.
Basketball practice in the new facility started November 27, 1934.
A program of dedication for the new $80,000 gymnasium-auditorium was held December 14, 1934.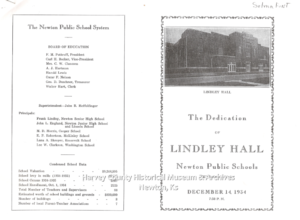 Frank Lindley was the Newton High School men's basketball coach from 1914-45.  He was one of the first to use the zone defense. Lindley finished his coaching career with a record of 594-118, 8 state titles and 8 state runner-up.  He also served as Newton High School principal from 1921-1951.
Sources:
Evening Kansan Republican, 28 November 1934,
Program: The Dedication of Lindley Hall, Newton Public Schools, December 14, 1934. HCHM Archives.