by Kristine Schmucker, HCHM Curator
A question that we often get is a variation of "Which Native American  groups lived in Kansas?" Hopefully,  the following post will provide some answers.
Since there are no written records from the ancestors of current day Native Americans, we rely on what others, like Spanish explorers observed, and archaeological discoveries. A recent discovery by WSU anthropologist, Donald Blakeslee, has shed new light on Native American life and culture  on the Plains. The Wichita Indian settlement identified as Etzanoa, located near present day Arkansas City, Ks, gives evidence of a well established town much larger than was previously thought.
About the discovery, Dr. Blakslee noted:
"this was not some remote place. The people traded and lived in huge communities. Everything we thought we knew turns out to be wrong. I think this needs a place in every schoolbook."
Throughout Kansas,  there is evidence of thriving communities pre-European settlement.
Native Tribes
Tribes that are considered native to present day Kansas include Arapaho, Cheyenne, Comanche, Kanza, Kiowa, Osage, Pawnee and Wichita.
Indian Removal Act 1830
Beginning in 1803, the United States government proposed plans to move tribes from eastern United States to land west of the Mississippi. Finally, the Indian Removal Act passed in spring of 1830. The implementation of the act forcibly removed eastern tribes  to the west including present day Kansas.
Map survey of Indian lands by Isaac McCoy, 1830-36.
In 1829, the Delawares were the first tribe to sign treaties which gave them land in the Kansas territory indicated on the map by Isaac McCoy, 1830.
McCoy, a missionary to the Ottawa and Pottawatomie tribes of Michigan, agreed with US policy that removed Native Americans to land west of the Mississippi. He along with some Native American delegates explored the Kansas Territory. This map is a result of his survey.  The map was redrawn by H. J. Adams.
1856 Map of Eastern Kansas
The effect of the  Indian Removal Act of 1830 can be seen in the below map which includes a number of eastern tribes. Indian boundaries indicated on the 1856 map of the eastern part of Kansas include the tribes of Kickapoo, Pottawatomie, Kansas, Sac & Fox, Shawnee, Miami, Ottawa, Chippewa, Peoria, Kaskaskia, Iowa, Delaware, Wyandotte, Piankashaw, and Wea.
Simplified Map of Historic Indian Locations
In Harvey County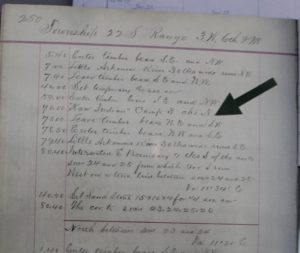 Beginning in 1855, surveyors worked to map  Kansas. The above surveyor note identified a "Kaw Village" in Township 22, Range 3 W 6th PM, 3 ch N.  The map below shows the location on the Arkansas River in Alta Township, Harvey County, Ks.

From HCHM's Collection: Objects found in the area.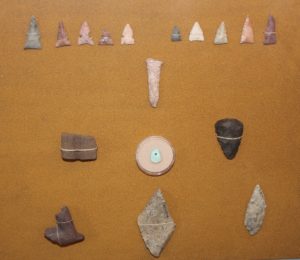 Along the borders of Harvey, Marion & McPherson Counties, evidence has also been found of Kaw life.
The Kaw
At one time the Kaw or Kanza had territory that covered about two-fifths of what today is Kansas, Nebraska and Missouri. Beginning with treaties from the 1820s and 1830s, the Kanza lands were reduced until 1873.  At that time, the tribe was forced from Kansas to make more land available for white settlement. At that time, there were only about 500 members.
Today, the Kaw Nation has 3,500 members, many live in Kaw City, OK about 70 miles southeast of Wichita, Ks.
Native Americans In Kansas Today
Today, there are four Indian reservations – the Iowa, Kickapoo, Pottawatomie, and Sac & Fox – in Kansas.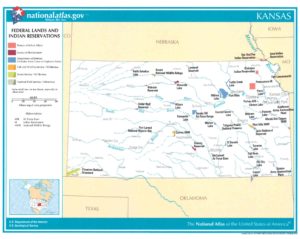 For  more information visit  American Indians in Kansas  or the city of  Etzannoa.
.