by Kristine Schmucker, HCHM Curator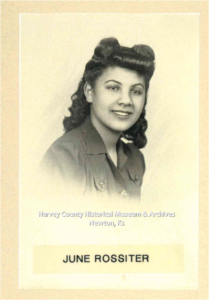 In the spring of 1985, 58 year old June Rossiter Thaw achieved one of her lifelong dreams as she walked across the stage at Bethel College to earn her bachelor's degree in social work. The same spring, her son, Terry graduated from Newton High School.  The Thaw family had much to celebrate!
June Thaw spent her life in service to others.  Born in Newton on June 6, 1927 to Kean and Hazel Rickman Rossiter, June enjoyed helping people and throughout her life she did just that.
She graduated from Newton High School and at age 20 she married Booker T. Thaw on March 12, 1948. For awhile, her life was filled with raising a family, but she still found time to attend college classes, workshops and seminars. However, graduating with a college degree remained just out of reach.
June had a life philosophy that one never gets to old to learn something new and set new goals.  This was never clearer than after her husband, Brooker T., died in October 1980.  She decided that "school would be the perfect thing to help her put her life back together."
After getting her degree, June worked as a social worker at Presbyterian Manor in Newton. She also was involved in many community organizations.  She worked with Catherine Westerhaus to found the Mid-Kansas Community Action Program. As part of her work at Mid-CAP, she was active in establishing a number of programs that are still needed today including Head Start, Meals on Wheels, as well as senior transportation and food stamp support.
Other projects important to June included hospice, domestic violence and voter registration.
June was named as one of "10 Who Made A Difference" in the March 28, 2005, Newton Kansan. Even at the age of 77, she did not let her age or physical difficulties get in the way of her work noting; "I still have stuff I want to do . . .I am not ready to die."  In 2005, Rosa Barrera, then director of RSVP noted that June did not let her wheelchair stop her. Barrera noted; "Quite a bit of volunteer work gets done from her apartment. She phones all other seniors in the community to check on them." At that point June had volunteered with RSVP for 5 years.
When asked to sum up her life in one word, June told the reporter; "Satisfaction. My peace with God is the main thing that keeps me going."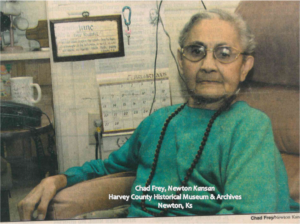 June Thaw completed her life of service on December 16, 2007 at the age of 80. Throughout her life, she was definitely one who made a difference.
Sources
"Rickman Book" on loan from Karen Werner Wall.

Marriage License Booker T Thaw to June Sylvia Rossiter, March 12, 1948.
"Mother & Son are 1985 Graduates" Kansas State Globe: May 22-29, 1985.
Frey, Chad, "Women's work helped many" Newton Kansan, 28 March 2005.
All photos courtesy Karen Werner Wall, "Rickman Book."

"June Sylvia Rossiter Thaw Obituary," Newton Kansan, 19 December 2007.