by Kristine Schmucker, HCHM Curator
What was it like to be a teenager at the turn of the century.  Sometimes we get brief glimpses that show people really have not changed all that much over the years.  The "Chap Record" from our collection gives us a peek.
Promoted as a "novel or amusing Christmas souvenir" in 1898, the "Chap Record," designed by Adda Sproul Reading, was for the "girl of the period."  
The "attractive little volume, daintily bound in white and green," had blank pages for each name with room for notes. There was even "a special place given for the names of the twelve most notable chaps."
In 1898, the book was published by Frederick A. Stokes Co, New York and cost $1.
On January 1, 1905, 17 year old Juliette Roff received a "Chap Record" from "Bob" who was "one of them" to record the chaps she met.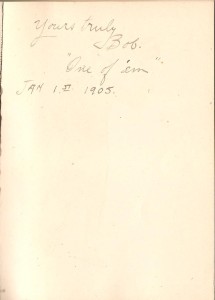 Juliette, born in 1887 in Newton, was the only child of Dr. Ocran W. and  Alice Paine Roff.  She attended Newton schools and over several years she wrote in her "Chap Record."
Newton Chaps
"Ambitious and will Someday be Successful"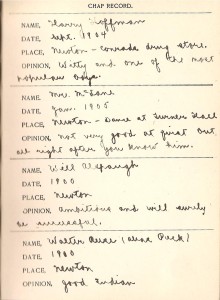 "Cynical but has alot of good traits."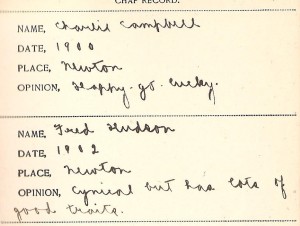 "All Right Just Long as You Don't Dance With Him"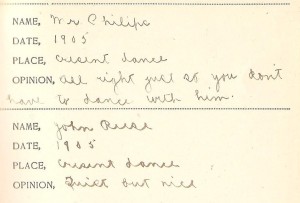 "Known Him All My Life . . . Handsomest"

"Tat Can Have Him"

"Made Quite A Hit with Me"

"Shows a Girl a Dandy Time"

After graduating from the Newton schools and attending Bethel College, Juliette studied fine arts at the University of Kansas.  She also was associated with the sorority, Kappa Kappa Gamma.
College Chaps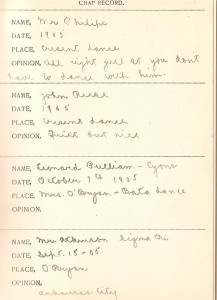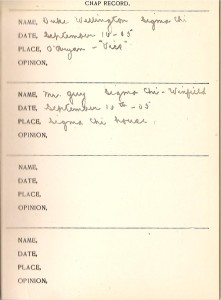 She returned to Newton and married Walter Reese on December 2, 1928. They established a home at 801 Plum in Newton. Soon she established herself as a "charming and gracious hostess."  Walter was also prominent in the community as a director at the Kansas State Bank, Newton.
Walter and Juliette had two daughters, Alice and Juliette (Judy). In addition to church activities, she was active in many community societies like the Treble Clef Club.  Juliette died in June 1946 of a cerebral hemorrhage. She was 59 years old.
Sources:
Literary News, vol. 19, December 1898, p. 374.
Reading, Adda Sproul.  Chap Record. Frederick A. Stokes Co., New York, 1898. Belonged to Juliette Roff Reese, HCHM #2000.100.48.
"Mrs Walter Reese" Obituary in Evening Kansan Republican, 24 June 1946, p. 2.
U.S. Census, 1900, 1920, 1930, 1940.