by Kristine Schmucker, HCHM Curator

"A three-alarm fire of undetermined origin swept through the Kansas Gas and Electric Company building, 512 Main street, Saturday morning, completely gutting the building and causing untold damage . . ."
Fire at the KG&E Building, 512 Main, Newton, Ks, February 21, 1953.
At 8:15 on Saturday morning, February 21, V.O. Brumback, owner of Brumback Paint & Supply, noticed "smoke seeping through the floor at the rear of Gordon's Shop adjacent to his business." The fire department was quickly alerted.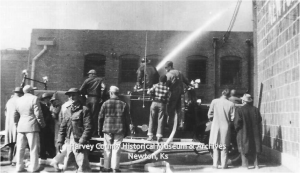 At first "firemen with masks attempted to enter the building but reported the blazing inferno 'too hot' to get near." Eventually, four trucks were on the scene to fight the fire. At 10:45 a.m., the back wall of the structure collapsed. After the collapse, the firefighters were able to get the fire under control soon after.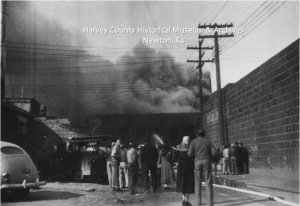 Heroic Deed
The paper reported the actions of the 71 year old fire chief during the fire may have kept the fire from spreading.
"Newton Fire Chief Ed Warhurst was being applauded by many  . . . For a heroic deed which might have saved many thousands dollars of damage, and perhaps a complete block of buildings. . . . Chief Warhurst personally made his way to the top of the blazing building and cut a hole in the roof, so that the fire could 'get air'. . . . [he] deemed the act necessary to keep the flames from spreading."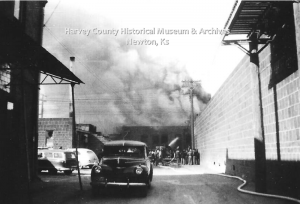 The fire likely started in the basement.  Other businesses affected included Gordon Ladies Wear Shop, Graber's Hardware and  Brumback Paint & Paper Store.  The Kansan reported that "a throng of over 2,000 people trampled the watery street and alley behind the building witnessing the fighting procedure." Damage was estimated at $50,000.
The Kansan also noted that buildings on east side of the 500 Block were also the victims of previous fires.  On November 16, 1901, fire damaged a lumberyard and and Duff's & Son. Newton's biggest fire 39 years before on August 4, 1914. At that time, almost a square block was destroyed, and the offices of the KG& E Company also sustained damage during that fire.
Chief Warhurst was on duty for both fires.  Edmond C. Warhurst, was a lifelong Harvey County resident. He joined the Newton Fire Dept July 3, 1907 at the age of 25.  In 1914, he was the Assistant Fire Chief and provided leadership at "the biggest fire in Newton's history."  He served as Fire Chief from 1941 until his unexpected death from a heart attack on November 1, 1956.
Sources:
Newton Kansan, February 21, 1953, p. 1.
Newton Kansan, November 2, 1956, p. 1.