by Kristine Schmucker, HCHM Curator
All of Newton celebrated when the 1931 debate team won the State Championship title,  but that was not the end  for one member of the successful team. Newton High Senior and Orator, Robert G. Rayburn, was able to keep competing, representing Newton, Kansas and the United States along the way.

Robert G. Rayburn was born January 14, 1915 in Newton, Ks. He was the third son of four in the family of Presbyterian minister and evangelist, James C. Rayburn and Elna Beck Rayburn. A talented pianist, Robert participated in many activities at Newton High. He also joined his father in several evangelistic campaigns.
In 1931, Rayburn was a member of the state debate team and he competed as an orator at the national and international level.  Early in May 1931, he competed against five other students in the Mid-western Zone finals held in Kansas City.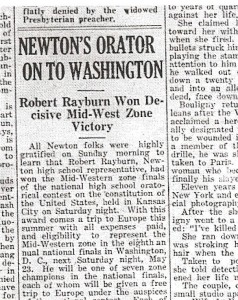 Following his "decisive victory," he with Mrs. Moore traveled to Washington D.C. to compete at the national level.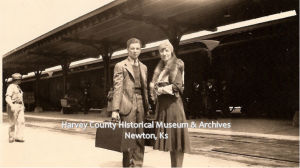 To prepare for the national contest, Rayburn developed and learned thirty extemporaneous speeches in the week before the contest.  Three ballots were required to win from the contest judges.
"Robert's oration was titled, 'The Tests of the Constitution' . . . he won particular applause with his extemporaneous speaking with followed his prepared oration."
The news of his victory was welcomed in his home community.
"All of Kansas and particularly Newton rejoiced Sunday morning over the success of Robert Rayburn in winning first place in the National oratorical contest at Washington D.C. on Saturday night."

In October 1931, Rayburn competed as the American representative in the international contest in Washington D.C. There were seven contestants. Although he gave a strong effort, Rayburn did not place in the top three at the contest.
"Reports indicate that Robert's prepared oration was exceptionally well received, but he was handicapped in his extemporaneous speech by the somewhat unusual and intricate subject of the "Relation of the Constitution to the Philippines."
Rayburn studied music at Bethel College North Newton, and graduated from Wheaton College in 1939 and Omaha Presbyterian Theological Seminary in 1941. He received his doctorate degree from the Dallas Theological Seminary in 1944.  He served as an army chaplain in Europe from 1944-46 and again during the Korean War with the 187th Airborne Regimental Combat Team.  He wrote about his wartime experiences in his book, Fight the Good Fight. 
In 1944, he married LaVerne Swanson Rayburn.  They had four children, Linnea, Bronwyn, Bentley, and Robert S.
Following his retirement from the military chaplaincy, he served as a leader in the Reformed Presbyterian Church.  Rayburn was the founding president of Covenant College. In 1980, he published O Come Let Us Worship: Corporate Worship in the Evangelical Church.  Throughout his later years,  Dr. Rayburn spent time teaching Seminary students, writing and speaking.  He was able to be active up until his death from cancer January 5, 1990 at the age of 74,
Sources:
Evening Kansan Republican, 16 May 1931, 18 May 1931, 23 May 1931, 24 May 1931, 24 October 1931, 26 October 1931.
Evening Kansan Republican, 1 November 1952; 20 October 1954.
"This Day in Presbyterian History – January 5: Dr. Robert G. Rayburn (1915-1990)."  at www.thisday.pcahistory.org/2016/01/January-5-4.
"Robert Gibson Rayburn Papers." Finding Aid at www.pcahistory.org/findingaids/rayburn/.