by Kristine Schmucker, HCHM Curator
May is Historic Preservation Month!
This year we will feature stories about buildings from the south side of the tracks in Newton, Ks
The historic district on the north side of Newton's railroad tracks has beautiful historic buildings, however, many of the oldest buildings along Newton's Main Street are  located south of the tracks. The area 200 through 214 and 203 through 301 was placed on the National Register of Historic Places as Newton Historic District 1 in 2003. These buildings once housed thriving hardware, furniture and grocery stores anchored by the Bank of Commerce on the corner of 3rd & Main on the east side and the Newton Hotel, a large three story stone structure dominated the west side at the corner of 2nd & Main.
Just behind and to the west of the Newton Hotel was a large milling complex.
A local businessman D. Hamill built the large stone and brick Monarch Mill in 1881.  The editor of the Weekly Republican declared in April 1881 that the Monarch Mill as "one of the very best flouring mills in Kansas."
The business was bought by Bernhard Warkentin in 1886 and renamed the Newton Milling Co.
By the late 1960s, early 1970s, the 90 year old structure was in poor repair.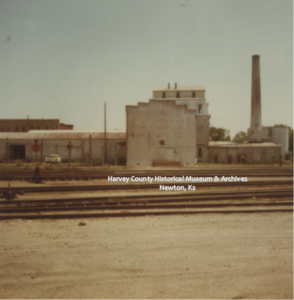 Demolition
Despite the connections to early Harvey County history, the building was slated for demolition in the early 1970s.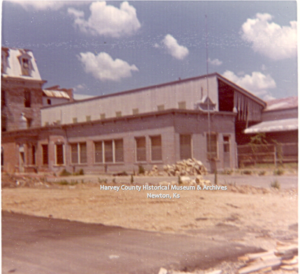 A section of the roof had been removed when in a dramatic eleventh hour effort, local businessman and wife, Lloyd & and Jackie Smith bought the building.
Restoring the Old Mill
Early in the restoration, preservation process, they discovered the original blueprints for the building. This discovery allowed them to make repairs in keeping with the original, including restoration of the unique mansard roof.
For many years, the Old Mill was home to S&V Tools, a company owned and operated by Lloyd Smith. After Smith retired, many businesses have called the building home including restaurants, dentists, and accounting firms. The Old Mill is a success story of adaptive use for historic structures.
At nearly 140 years old, the Old Mill remains a significant landmark that connects us to Harvey County's earliest businesses while providing space for current enterprises.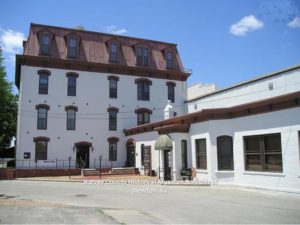 Trivia Question Answer
The answer to our trivia question – how tall is the smoke stack behind the Old Mill? 100 feet.