by Kristine Schmucker, HCHM Curator
The halls and galleries at HCHM are decorated this year with a Coca-Cola theme. We will be open for the annual 5 Places of Christmas, Saturday, Dec. 6 from 10-4. Refreshments, Coca-Cola cake with Coke, will be served throughout the day and the "Rosewood Winds" will perform at 2:00.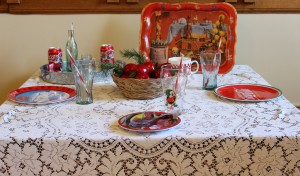 Several years ago, a 4 foot Coca-Cola Santa was donated to the museum.  Since then he has been a fun addition to our annual Christmas decorations.  The connection between Santa and Coca-Cola can be found as early as 1931.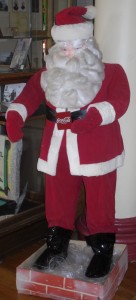 Prior to the 1930s, Santa's appearance was varied reflecting the melting pot of immigrants that moved to the U.S.
In  1930, noted commercial illustrator, Haddon Sundblom, was hired by the Coca-Cola Company to create a Santa for their 1931 Christmas advertising campaign.  The company was looking for ways to increase sales of the drink during the typically slow winter season.  Sundblom created a Santa that exuded warmth and charm dressed in a red suit with white trim with the slogan, "The Pause That Refreshes."  For inspiration, Sundblom borrowed from a variety of images of the jolly elf, including the 1822 poem by Clement Clark Moore, "A Visit from St. Nicholas" commonly known as "A Night Before Christmas."
From 1931 to 1964, Sundblom created images of Coca-Cola Santa delivering and playing with toys, raiding refrigerators and of course drinking a coke.  The artist used his neighbor and good friend, Lou Prentiss, as the model for his paintings.  After Prentiss passed away, Sundblom used his own face, often looking in the mirror while he painted.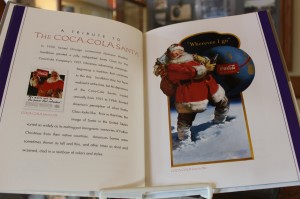 The Coca-Cola Company continues to use Coca-Cola Santa in advertising.
Sources:
Mooney, Phillip F.  "The Coca-Cola Santa" in 'Twas the Night Before Christmas by Clement C. Moore, Hallmark Cards, 2001.
http://www.coca-colacompany.com/holidays/the-true-history-of-the-modern-day-santa-claus
http://www.snopes.com/holidays/christmas/santa/cocacola.asp
http://www.stnicholascenter.org/pages/origin-of-santa/