by Kristine Schmucker, HCHM Curator
On a hot summer day, what sounds better than an ice cold drink?  Today, most of us take for granted that we can easily get ice when we want it, but what about years ago?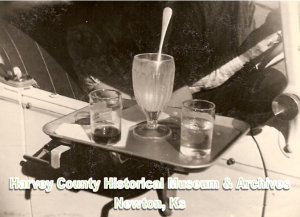 Charlsen Ice Co.
Charles Charlsen arrived in Harvey County in the early 1870s.  After trying several businesses, he settled on an ice and produce business.   In 1872, he built an ice house on the bank of Sand Creek  at 811 N. Elm. He is credited with establishing the first ice business in Harvey County in November 1872. He owned about a block  of land on each side of the creek.  The basement of the house was the equivalent of a two story building and used to store ice year round.
Initially, Charlsen sold ice from a covered ice wagon  to individuals.  People would put out signs indicating how much ice they wanted.  He also sold ice to meat markets and grocery stores.  The last ice cut from Sand Creek for Charlsen was in 1927.   Early in January 1928, Charlsen was inspecting the Sand Creek ice when suffered a stroke and fell.  He died January 5, 1928.  His son, George continued with the produce business.
Harvesting Ice  from Sand Creek
 Ice was harvested annually from Sand Creek until the late 1920s.
Sections were marked off with an iron mark which would measure to the equivalency of a 300 pound chunk of ice.  Using a double cut saw, the worker would cut around the mark.  They would usually mark off three at a time.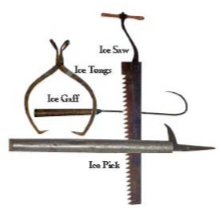 After the first piece was cut, the men, with the use of a pick or hook on the end of a long pole and ice tongs, would lift the first piece  out and place it on a ramp.  The other pieces would then float to were they could get a hold of them with the tongs.  The chunks would be pulled up the ramp with ropes and pulleys and then released to go down another ramp into the basement of the ice house.  Two men were in the basement stacking the blocks of ice.
The floor of the ice house was covered with about 12 inches of straw.   Eventually, the basement would be stacked to the ceiling with ice blocks.
Newton Ice Co.
In addition to Carlson, other ice companies served Harvey County.  The Newton Ice Co. began delivering ice to homes in 1898.
Customers would indicate the amount of ice needed, either 25 or 50 pounds, with a sign on their door.
The Railroad also needed ice.  In 1906, the Sand Creek Ice Plant of the Newton Ice  Co., had a daily capacity of 75 tons of ice.  By 1922, 100 tons of ice were  manufactured with a storage capacity of 10 thousand tons.  The Plant served the city of Newton, the Santa Fe Railroad and surrounding communities.
The Plant employed 25 men and operated 24 hours  a day.  An additional 75-100 men were employed during the busy times.
So, next time you fill your glass with ice, remember it used to be a whole lot harder to come by.
 Sources
Newton Kansan, 10 January 1928.  Obituary for Charles C. Charlsen (1848-1928).
Newton Kansan 50th Anniversary Edition,  22 August 1922.
Newton Kansan 7 February 1979 "Newton's First Ice House Dates Back to 1872" by Betty Reeves.
 Toews, Dudley Dodgion.  Newton:  Remembering Yesterday Today.