Barns are such an important part of farm life in Harvey County. We thought we would share a few photos from our collection.
Unknown
George Kline Family Farm
Macon Township, Harvey County, Ks
Barn Memories
"We used to put on theatricals upstairs in our barn.  One, especially, had a disappearing stunt in it and the only way we could disappear was to stand close to the hay chute and step backwards and slide down the chute and come out below in the cow's manger. . . . we got stuck sometimes and a recess was declared and the cast disbanded to pull the unfortunate one out. . ."  Helen Purvis Johns Moore.
S. M. Spangler Family Farm
3 miles south on Old 81, Harvey County, Ks
Jacob Andres/Peter Claassen Barn, 1963.
1 mile west of Farmer's Corner, west of Halstead to the right and west of the river.
Barn was built in 1876 by Jacob Andres and son Gustav. Later owners included Peter Claassen and C.F. (Fritz) Claassen.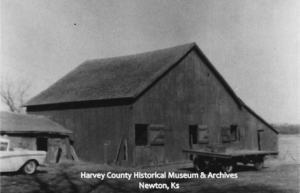 Fred Klaassen Farm, 1938
Sources:
Rogers, Ruth.   "The Emanuel Johns Family: My Life Story by Helen Purvis Johns Moore. The Homesteader, Harvey County Kansas Genealogical Society Newsletter, Vol. 13, Issue 2, May 2017.