by Kristine Schmucker, HCHM Curator
Recently, HCHM archivist Jane Jones came across a letter written by Carl Chapman to Mike Hurley in the late 1970s-early 1980s.  Chapman, living in California, answered some of Hurley's questions about the AVI. In the letter, he mentioned "Theis Park." This was not familiar to us as a place in Harvey County, so we did some digging.
Carl Chapman wrote:
"I rode the AVI back and forth to school when I was in the 3rd or 4th grade for a short time.  I went to school at Lincoln School.  I would run up to the depot on 5th street to catch it at 4:00.  They were supposed to leave at 4:00, but would wait for me.  When we got to Moorlands Station they would go on by. The conductor said the ticket had Theis Park on it and not Moorlands.  They would go a little ways past Moorlands and then back to let me off. "
Chapman describes the location of  the Theis Park Station:
"Theis Park Station on the north side of the tracks and just east of the road that ran along the west side of Moorlands.  There was another station east of the Moorlands right by Vetters farm on Meridian Rd."
He also noted the location on his hand drawn map (blue arrow).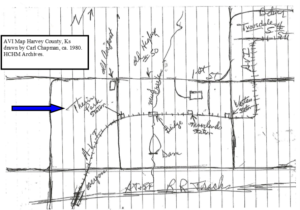 The AVI Station, Theis Park, was a mystery.  The station name was not familiar.  Due to his handwriting, it was difficult to determine the spelling at first.
However, the map below shed some light.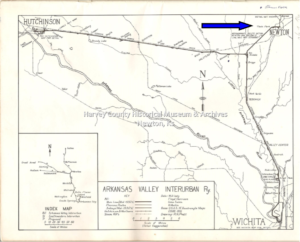 The stop is also listed on the AVI Schedule and ticket in 1932.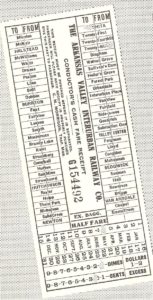 Theis Park was likely named after George J. Theis, Jr, "local financier and stock broker" who was elected president of the Arkansas Valley Interurban Railway in 1913.  At that time Theis owned the majority of stock in the company and lived in Wichita.
A review of the Evening Kansan revealed that Theis Park was a popular site for picnics from 1919 to 1922.  Often a group would "hike" out to the park west of Newton, have a wiener roast and then ride the AVI back into town.
Carl also had other fun memories about growing up in Harvey County to share in his letter to Hurley.
"When I was going to High School I had a 1926 model T. I drove it across the 5th St wooden bridge over Sand Creek on time.  Kind of Daring."

"My grandmother told me years ago that on Halloween the kids would grease the AVI tracks on the hill on No Main St just north of 8th Street so they couldn't make it up the hill."
Carl noted that his father was the caretaker for the Moorlands for quite a few years.
In the end, all of the pieces came to together to give another glimpse of Harvey County history.
 Sources:
Chapman, Carl, Oceanside, Ca, letter to Mike Hurley, Newton, Ks, ca. 1980.  Mike Hurley Railway Collection, File Drawer #4, HCHM Archives, Newton, Ks.
Evening Kansan Republican: 23 July 1913, 2 May 1914, 7 June 1917, 2 August 1919,  17 May 1920, 11 June 1920, 12 June 1920,  2 October 1920, 7 May 1921, 20 September 1921, 10 October 1922.
Hurley, L.M. Mike. Newton, Kansas #1 Santa Fe Rail Hub 1871-1971. N. Newton, Ks: Mennonite Press, 1985.
Isely, Malcolm D. Arkansas Valley Interurban. 1956.