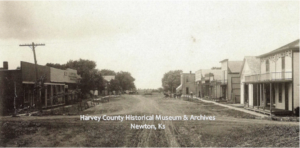 Recognize the Harvey County town of Walton?
William Matthews laid off the original 25 acre town site for Walton, Ks, and constructed the first building.  Soon a second building was constructed, a general store, by Baldwin and Glynn, later bought by B. C. Johnson.  The town had a post office with a school house, and a church. For a very brief time, the Santa Fe Railroad track stopped at Walton.  By the summer of 1871, the tracks went on to Newton.
Originally, Walton was part of Marion County.  When Harvey County was established in 1872, Walton became part of the new county.  The small community was located on the "highest ground in Harvey County."
In 1882, the town had a population of 250, with two general stores, two groceries, one drug store, two dry goods stores, one elevator, one livery, two hotels, one blacksmith shop, and  one shoe shop.
Walton was incorporated in April 1886 as a 3rd class city, population 300.  J.A. Gradle was the first mayor.