by Kristine Schmucker, HCHM Curator
This post features a collection of paper napkins at HCHM.  Life long Newton resident, Clarice E. (Penner) Titus (1929-2015), collected paper napkins from events and parties that she attended throughout her life. Some have dates and places identified with them, including several from Wales, 1945. Others are from weddings or baby showers.
For this post the focus is on the Halloween napkins in the collection. Also included are some tidbits pulled from the Evening Kansan Republican describing Halloween parties in Harvey County.  Halloween was  "a holiday of fun and frolic for young people"  and churches, clubs and individuals held parties for all ages.
Treats & Sweets
The Princess Confectionery, Newton,   provided hostesses with "good confectionery" for their parties.
Decorations & Party Favors
Games
In 1913, the editor of the Evening Kansan Republican suggested two party games "for the proper celebration of Hallowe'en."
The first, Mme. Merri's Advice was an "easy method, as well as quick one, for telling fortunes."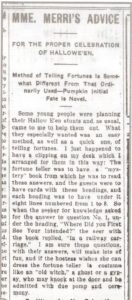 "The fortune teller was to have a 'mystery' book from which he was to read these answers, and the  guests were to have cards with these headings, and each heading was to have under it eight lines numbered from 1 to 8.  So when the seeker for knowledge asked for the answer to question No. 1, under the heading, 'Where did you first see your intended?' the seer with the book replied, 'In a railway carriage'."
Questions for Mme. Merri's Advice Game:
The second fortune telling game he suggested was the "Pumpkin Initial Fate" to determine "the letter that begins the name of the intended husband or wife."
According to the game, "if no letter is stuck in, it means that single blessedness is to be the fate."
The Evening was" a very jolly one"
The parties were described in the Evening Kansan Republican the next day.
Above all, everyone was encouraged to "have a good time but be reasonable."
Sources
Evening Kansan Republican, 31 October 1913, p. 5.
Evening Kansan Republican, 5 November 1913, p. 7.
Evening Kansan Republican, 26 October 1922, p. 1.
Evening Kansan Republican,  27 October 1922, p. 6.
Clarice Titus Napkin Collection, HCHM.
An exhibit of holiday paper napkins from the Clarice Titus Collection will be on display at the Newton Public Library Nov. 2 – Dec. 30, 2016.