by Kristine Schmucker, HCHM Curator
About a month ago,  James & Heather Barringer, Newton Bike Shop,  brought in an odd collection of items. While working on the building at W 6th, James had discovered these items between the walls.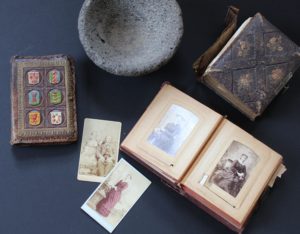 Various businesses have called the 100 block of W 6th home over the years One of the earliest businesses was a livery stable owned and operated by D.S. Welsh as early as 1882.
Later businesses included the Evening Kansan Republican (later the Newton Kansan) and the Mennonite Weekly Review (later the Mennonite World Review).  Currently the Newton Bike Shop  and Back Alley Pizza are located in this block.  The buildings are being renovated, leading to the discovery of this unique collection.
The small tooled leather case was intriguing.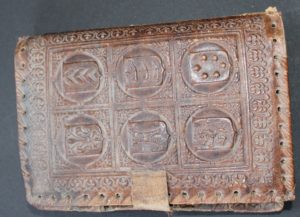 Inside, cards for playing Bridge with instructions dated 1926 and 1935.
How did this item find it's way to the space between the interior and exterior walls of Welsh Livery building?  Was it left behind by a weary traveler?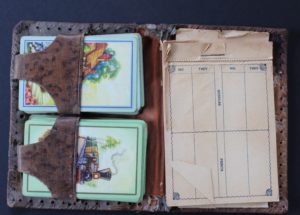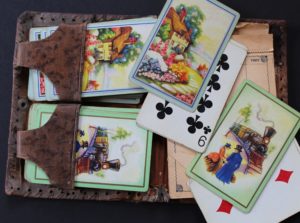 Other items discovered included two photo albums that seem to be quite a bit older.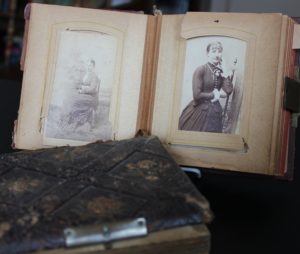 Album #1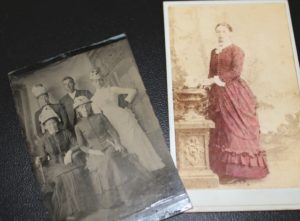 Album #2
Although there was not identification, there were clues, including the photographer mark – "L. Larsson" – on the back of several of the photos in the second album. Other photographer studios included ones from Clay Center, Kansas, in both albums.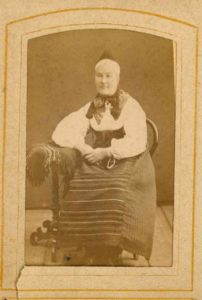 Even an obituary.
The collection forms a type of time capsule, maybe related to people traveling through Harvey County and the objects they left behind.
Update on photographer L. Larsson.
We received the following information from Lars Eriksson, Sweden, about the photographer L. Larsson.
"He was a Swedish photographer. Living in Vestra Boda, Dalarna County 1858-1932. He did have a studio in Clay Center, Kansas, 1886-1887."
Thank you to Lars Eriksson for this added information!