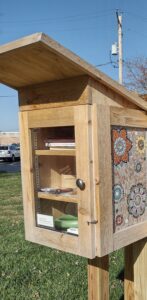 Did you find Rosie's House?
It is located in the park just east of the Carriage Factory Art Gallery.  Much like the little libraries around town, people can borrow art supplies from Rosie's House to create their own art.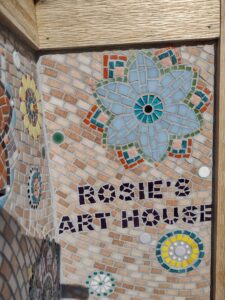 Rosie's Art House was dedicated 21 August 2021.
Reporter Chad Frey described the idea behind Rosie's House in the August 23, 2021 Newton Kansan.
The art house has two purposes.  A small works gallery will feature work by a different artist each month. An art supply closet will have free art supplies.

Artists whose work is on display can determine if the small gallery will be open for art trading, or if their art will be on a static display. 

Supplies, which do not need to be new, can be donated at the gallery where volunteers and staff will sort through donations and place items in the box. Aspiring artists can take what they need, free of charge.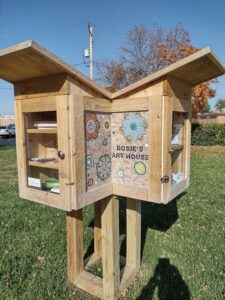 "It is for all ages. It is not just for the wee ones, it is for anyone who we can help on a creative journey," McDonald said. "Anyone who creates from that can post on social media with the hashtag #rosiesarthouse."

The project was dubbed Rosie's Art House, after Rosalind Andreas, a former board member at the gallery. Andreas died on March 15, 2021 in Newton. "
Carriage Factory Art Gallery located at 128 E. 6th Newton, Ks.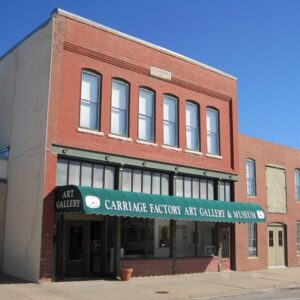 For more information contact the Carriage Factory Art Gallery at 316-284-2749 or stop by  128 E 6th St, Newton, KS.
While the park is open to visit, the hours for the art gallery are Tuesday-Friday 10-5; Saturday 10-5. Closed Sunday & Monday. A visit is well worth the trip. 
For more articles on this unique idea and Rosalind Andreas see: Rosie's House & Rosie's House honors memory